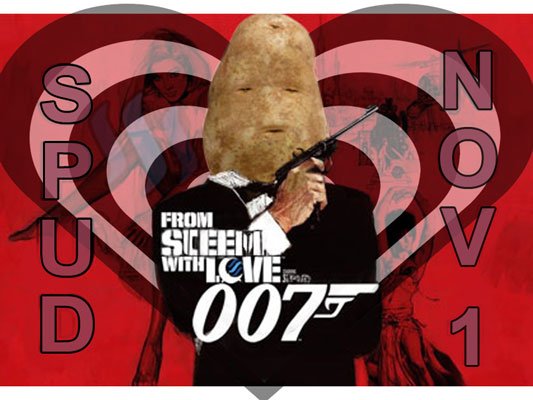 SPUD 7 Success!
I apologize for not posting the Final list a little sooner. It was the weekend and I got caught up with family events. I had a great weekend and I hope everyone else did too!
Congrats to all the winners! This is the final list, Sponsors please send out your prizes. No one was missed or left out. I did have a couple of newer members ask about the list, but luckily everyone that qualified seems to have been included. I did see a lot of new "faces" or rather user names joining in on the SPUD movement. As always, there were Steemians that made some great STEEM POWER UP moves but didn't get in on the list. If you posted with a #spud hash I most likely did see it and I thank you for supporting the SPUD movement.
On that note I also apologize if I did not reply back to you either, I do try but with SPUD growing the comments do so too, making it a little harder to get back to all of you. I also do re-steem many of the SPUD Steem Power Up posts, but I also miss some. It is just that there are quite a few post to go through while keeping track of the qualifying Power Ups for SPUD prizes, so I also might not get to re-steem all the posts.
Nonetheless this was a great turn out and SPUD continues to grow, and I do believe the prizes will also grow for SPUD 8, which is great news.
SPUD 7 OFFICIAL WINNER'S LIST**
*no particular order
SPUD Numbers
The SPUD qualifying entrants powered up just shy of 6400 Steem Power all together.
Great job Steemains!!
According to @penguinpablo 's Steem Stats that he publishes, for November 1, the Steem Community powered up 130,000 Steem on that day. Also, if you noticed the weekly average was negative by only 3000 Steem Powered Down, which is a great sign in my opinion. Another positive stat that I liked seeing was the progression of increased Steem Dollars being converted into Steem. This doesn't necessarily imply that this Steem was powered up but it sure does seem correlated especially since the numbers of Steem Dollars being converted into Steem were increasing as the day of SPUD approached, with November 1 being the day with the largest Steem Dollar to Steem conversion.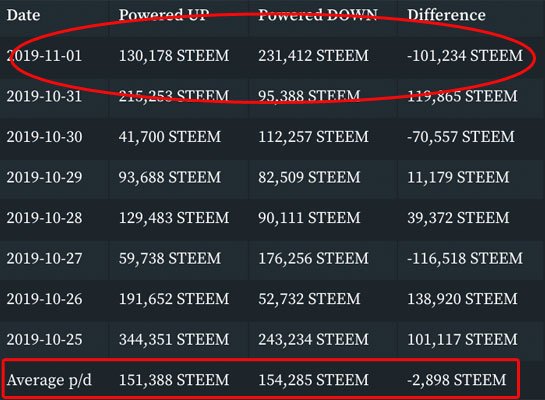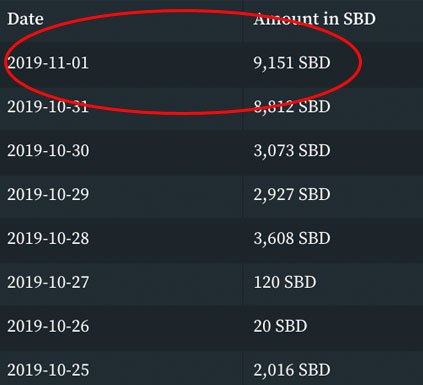 In the next chart we see STEEM POWERED UP vs. STEEM POWERED DOWN on the weekly. Based on this chart, it also seems the trend line for STEEM POWERED UP is climbing, note the red arrow. In the chart below this one, you see a Daily Chart for Steem Powered Down vs. Steem Powered Up. I circled in red a Huge Powered Down that was happening for a while. I can only guess as to what account that was, but without proof will just stay quiet and grateful that it ended. Also, in the blue, you do notice that now there are two Power Downs that recently started and look to be around for the next 10 weeks or so unless they stop powering down. Luckily they are not as Huge as the red in the red circle, so if the Steem Community can come to together to counter these Power Downs, it won't be that hard. Hopefully SPUD8 get bigger and badder, making those powering down regret it and instead join the Power Up movement.
In the final chart, I just wanted to point out that two of the SPUD prize Sponsors made it on Penguin Pablo's Larger Power Up list. @bippe and @reflektor Congrats and thanks for that show of Steem Love and Support while SPUD-ding!!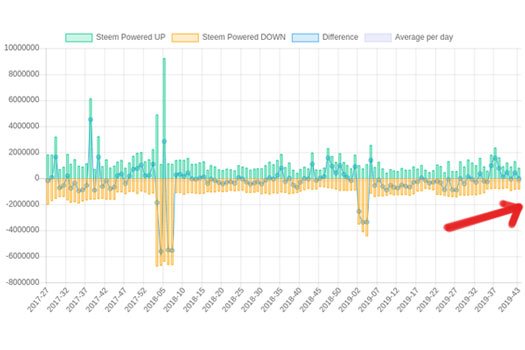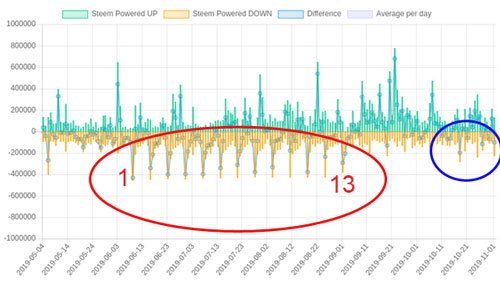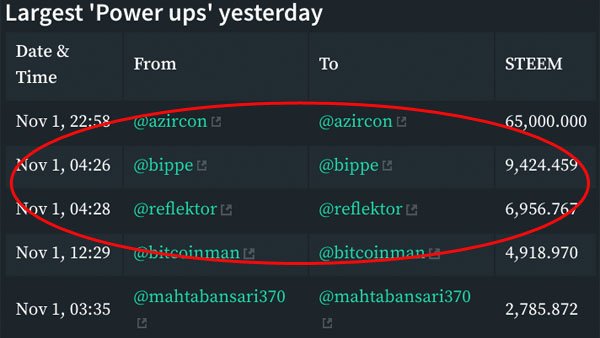 Well there you go.....let me know what you think about SPUD and it effect on these power downs.
Have Great Steem Week Everyone!
+++ @streetstyle