Splinterlands Guilds have been around for a week now and already 50 Guilds have been created. I was lucky enough to get into one of the first Guilds created on day one. Since then I have been working very diligently on trying to help the Guild build up the Lodge. I do this by completing my Daily Quests.
For every Daily Quest completed, the Guild gets one Scroll added to our Lodge. So far I have completed a Daily Quest every day since joining so I have earned

8 Scrolls for the Guild. Here's a list of the Scrolls needed for each of the first few levels and the rewards the Guild Members receive.

Currently we have a Level 2 Lodge, but by this time tomorrow we should achieve the 60 Scrolls needed and be Level 3. Then we get to work earning the 100 Scrolls needed to upgrade to a Level 4 Lodge.
The great part about using the Daily Quest as a way to earn Scrolls is that I'd be completing the Quests anyway, just to earn the Reward cards, like these that I got today.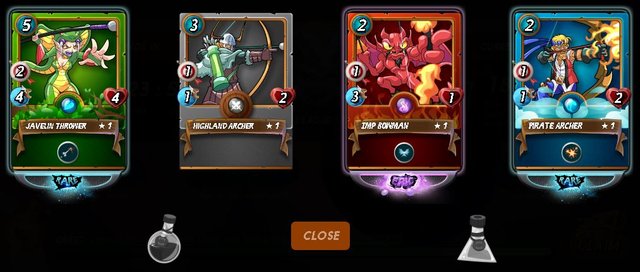 It's just now that it helps the Guild, I have even more incentive to get the Quests done in a timely fashion.