A Battle using GOBLIN MECH: My Splinterlands Journey #8
This is my entry to @splinterlands SHARE YOUR BATTLE Weekly Challenge!

Click on the banner below to read all about this challenge!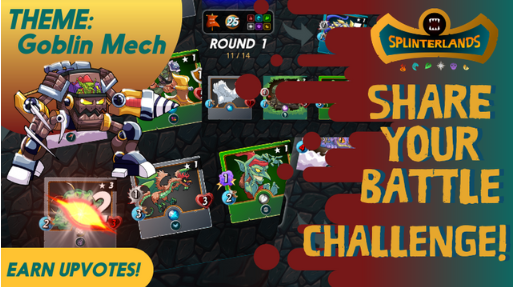 Banner Source
---

Let's get in the game!
The Rule Set for the battle featured below was Super Sneak/Lost Legendaries, Mana-35.
I chose the Earth Splinter using Daria Dragonscale as Summoner.
My strategy included:
Putting three strong Monster cards (i.e., more lives and armor, and higher speed) in the first, second, and third positions to withstand attacks from both the opponent's tank and other Monsters.
Choosing Monster cards with ABILITIES to attack from the back positions. Monsters with Melee attack only from the first position unless they have special abilities, such as SNEAK or REACH, and do so from the back positions. This may also allow time for back cards to utilize their abilities and damage or possibly eliminate the opponent's Monsters. When Monsters in support positions reach the first position and they will not be able to use their abilities on Monsters other than the one "tank" Monster in first position.
The higher Mana of this battle was the primary reason for me to utilize GOBLIN MECH in this battle. I chose GOBLIN MECH for the first position for several reasons. This Monster has the advantage of having a high 8 of health/life plus he comes with 5 shields. He also has a high number of 4 Melee attacks with a speed of 3! The GOBLIN MECH can be an ideal tank, especially if there is enough Mana to use in the battle.

Here are the Monsters Line Up in this battle:
| Enemy Summoner: Lyanna Natura (Earth Splinter) | @silversaver888's Summoner: Daria Dragonscale (Earth Splinter) |
| --- | --- |
| Gold Enchanted Defender L5 | GOBLIN MECH L5 |
| Gold Wood Nymph L5 | Gold Flesh Golem L4 |
| Gold Creeping Ooze L5 | Manticore L3 |
| Gold Rusty Android L5 | Wood Nymph L5 |
| Gold Highland Archer L5 | Goblin Sorcerer L3 |
| Gold Grumpy Dwarf L5 | Minotaur Warrior |

Okay, so here we go!!! WATCH ME BATTLE!
Please click on the thumbnail (photo)below, and then click arrow to watch this minute-long video!
---
I think that GOBLIN MECH in the first position worked very well!
I have used the GOBLIN MECH in the last position in a previous battle, and he was perfect! I wanted to show that battle as a second video for this article, but I can't seem to locate the battle in my file.
I also have used GOBLIN MECH in the second position while using a lower health Monster (such as the Furious Chicken in the first postion), or in the case really high 99 Mana battles, the GOBLIN MECH in a second position to Prismatic Energy.
I, personally, only start considering using GOBLIN MECH when the Mana requirement is over 22 Mana. Perhaps when I have a few more higher level cards with abilities, then I will be comfortable using the Goblin Mech in low Mana battles.

Note:
"MY SPLINTERLANDS JOURNEY" series of articles is dedicated to novice and beginner players in Splinterlands like myself.

Please join me in my journey to navigate Splinterlands.
Let us learn and have fun together!!!
In case you are interested, please read about...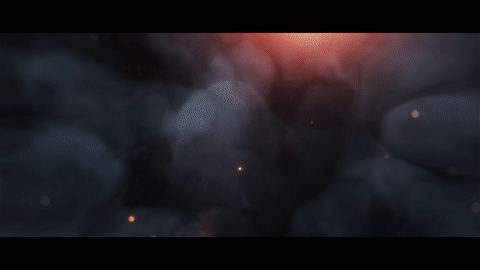 GIF Source
---
---

I hope that this article will be helpful to novice and beginner players of Splinterlands.
I am having so much FUN, and it is a challeging game to play! I want to thank @aggroed and @yabapmatt for creating such a fantastic game and another good way to build a bit of NFTs. Keep it coming!!!
Thank you to @clove71 and @carrieallen whose comments have been a source of encouragement for me. Thanks also to @stokjockey, @senstless, @welshstacker, @mattclarke, @cryptoFrancois, @grapthar, @jonnyla08, and @anouk.nox.spt for the continued help and assistance.

---
As a beginner player at Splinterlands, I learn and understand how the cards behave and perform in battles by watching all my battles from start to finish.
In your comments below, please feel free let me know if you have any other suggested card positioning or drop me a tip or two that could help me and others play the game better.
I also hope that you enjoyed this sharing of my battle using the Monster GOBLIN MECH!
---

I have a passion for stacking silver & gold, home-cooking and travel. And now... I love battling in Splinterlands! Follow me in my life journey.
Thank you for viewing this article. I will see you again soon!

@silversaver888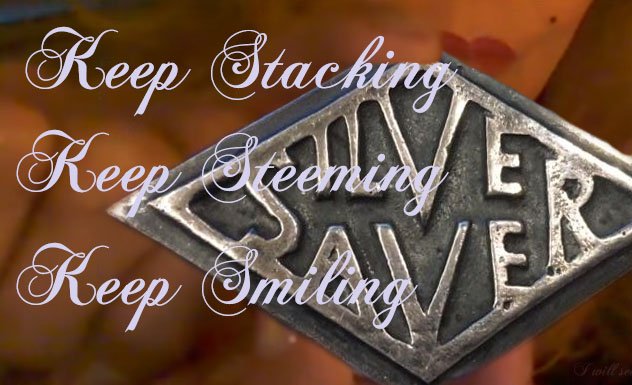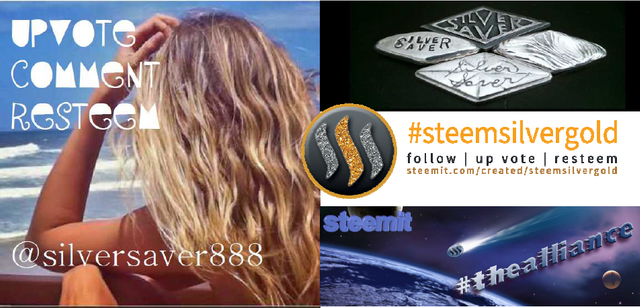 The Silver Saver Channel Bar, ltd. ed.
1 troy ounce, .999 fine silver, hand poured by MK Barz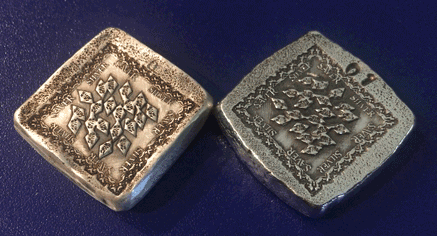 available from MK Barz and Bullion, click the link here. Use discount code: SSA10 to get a 10% discount for the Silver Saver Channel Bar.
Thanks for your support!
Thank you to the silver savers of steemit who have added the hand-poured Silver Saver Bar to their collection and stack. Do you have a Silver Saver Bar? Please let me know if you do the comment section below.


---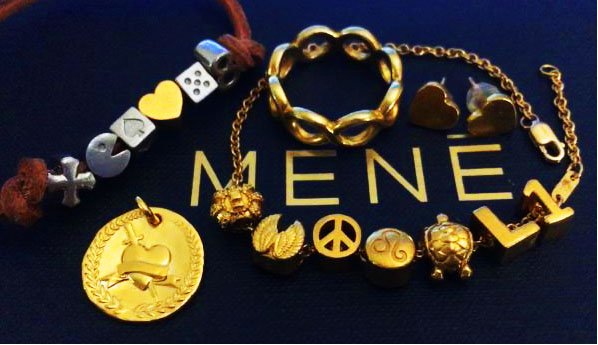 Mene 24K jewelry is a great way to build a gold and platinum stack.
Earn $5 in Mene credit for signing up for Mene with this invite link: https://www.Mene.com/invite/cK5BKh
---

@silversaver888 is a proud member of #ladiesofssg4eva -a club comprised of the beautiful female stackers of SSG.

ENJOY YOUR BATTLES!!!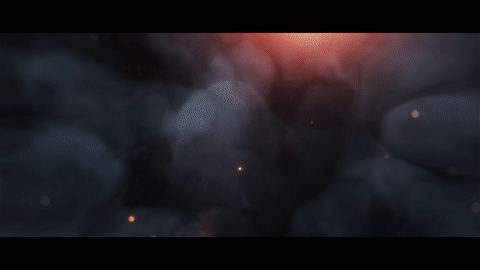 GIF Source