Splinterlands- US Stocks versus Splinterlands Game (Weekly Contest)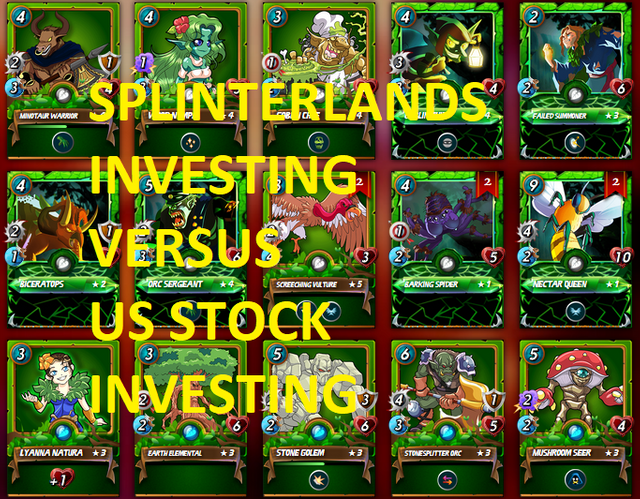 For this week I have been overwhelmed with the US stock market that I have less time to focus on posts, Splinterlands and other steem related activities. Current stock markets are diving lower and I have been trying to reduce my loses in my long term portfolio. As I finished today on another red day in the markets I find it may be interesting to compare the stock market with the Splinterlands market. So let me try to make a decent post comparing the two even though stocks are not considered a game I feel like I have been playing a game.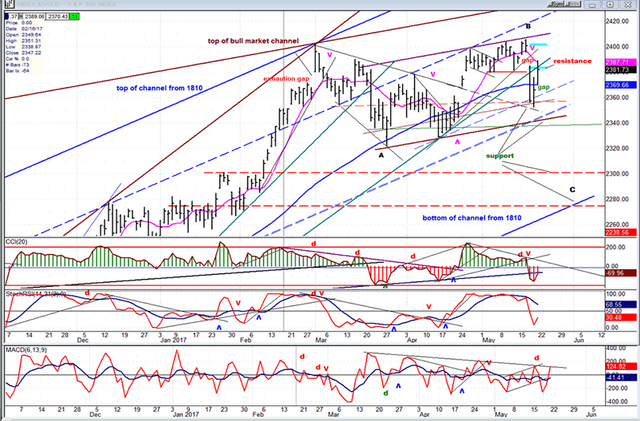 Trading in the Stock Market
Over the decade since I learn about the stock markets and investments I have sparingly traded stocks and options. I am more active during markets where it has high volatility. Why? I have learned that during high volatile trade sessions prices on stocks move a lot faster and I tend to dislike holding stocks long term. Although I do hold long term index funds. Anyways when prices either go up or down swiftly I can enter and exit trades accordingly. Recently the market has been down swiftly, but people can purchase inverse stocks to the downturn or put options.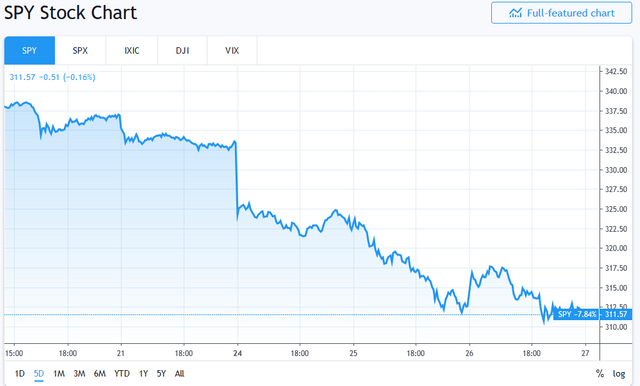 Above chart basically show the last five trading sessions and any non-trader can tell you the market has been lower. Well what odds are like for the next session to go lower? Odds are high it will since volatility is rising. People become afraid to invest hence will sell while there are other people who are looking to profit from the selling.
I use charts and technical tools to guess what will happen to stock prices, but currently the volatility is high enough that betting on stocks lowering has been easy. The cautionary note is to make sure to avoid shorting the market if the prices are rising. In trading short sale means someone sells the stocks at a given price and tries to buy it back at a lower price at a later date.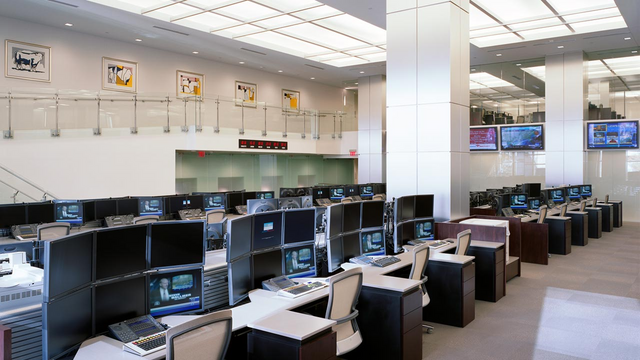 Computer Screens
I use dual screen monitors to trade and after trade hours I can play two accounts on Splinterlands via separate browsers. Even during trading when I need to look away from prices to avoid selling too early I tend to play some Splinterlands games. In the morning right before markets start and I finish reading news I also play a few Splinterlands matches.
Investing in Splinterlands
Although I do not spend a ton of $$$ directly in Splinterlands I do spend a ton of time in the game. Eventually I hope to earn enough high level cards to reach diamond/champion ranking. I currently am building up to level 3 decks. There are a few ways I have been spending my time in the game to invest in getting a better deck of cards.
Investing in DEC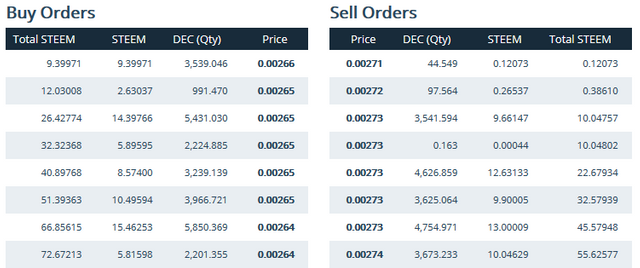 There a days when I have enough DEC and see it trades above a certain Steem price then I would trade for Steem. On a later date, I buy back DEC with the Steem to gain more DEC. I play arbitrage with DEC/Steem when DEC was worth more than 0.006 Steem each. Since then I have been only saving up DEC since it has drop in relative to Steem prices.
Posting About Splinterlands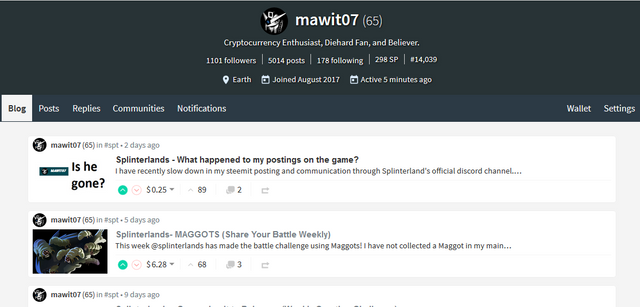 My majority of improvement investing in the game has come from posting on Steemit. As Splinterland's curation team has boost my gains through post rewards. Here is a link to one of their weekly post contest. Anyone who plays the game can post on Steemit and earn upvotes from the curation team through weekly contests.
The time and support the curation team has for gamers of Splinterlands can not be overlooked. There is a dedicated discord channel for players to congregate and talk everything and other things of Splinterlands. Discord Invite. I waited way to long to partake in the discord channel but there are active players on 24/7 that are willing to entertain, help players, and some even give cards for free to help players. Please check them out!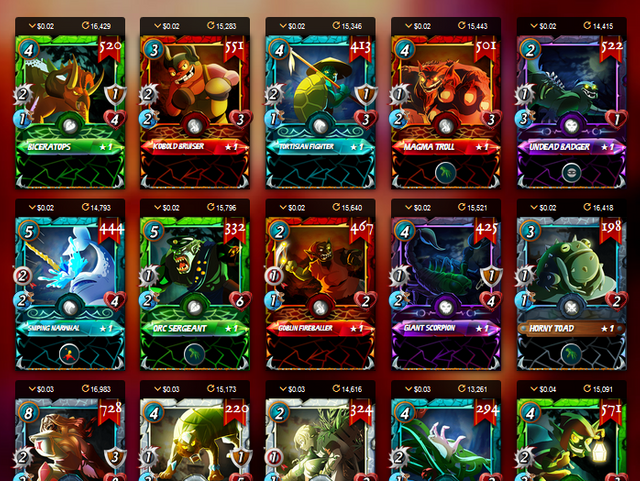 Market Place/Trading Cards
Splinterlands very similar to stocks can be bought and sold through markets. There are 3rd party market places for people to buy and sell cards, but the primary marketplace is at steemmonsters.com. Recently they made a post on a interesting update where a new stable token in the game can be traded for fiat at $1 to 1 token. The use of the token would be for players to buy card packs, orbs, potions, or even individual cards on the open market. The stable token allows the fiat to digit transfer to stay at peg which will provide more confidence for gamers to invest into the game. Here is there official post for reference.
Conclusions
The difference and similarities between trading stocks and playing Splinterlands are continue but I want to conclude that I love both very much. The end game for both likely is to earn more capital in the long run. I see holding Splinterlands cards long term will apperciate in value similar to holding stock investments. Although I get to have fun using the cards in Splinterlands while I do not have much I can do with trading charts. Thanks for reading!
If You have yet to take part in playing this great game called Splinterlands please click on my referral link. It is free but in order to earn real assets such as cards and token you would have to invest in a starter deck or purchase game cards. Join the discord to learn more. Good luck!

THANKS FOR READING! CONTINUE TO SPLINTERLANDS ON!