Splinterlands - Sneak Ability (Weekly Battle Post)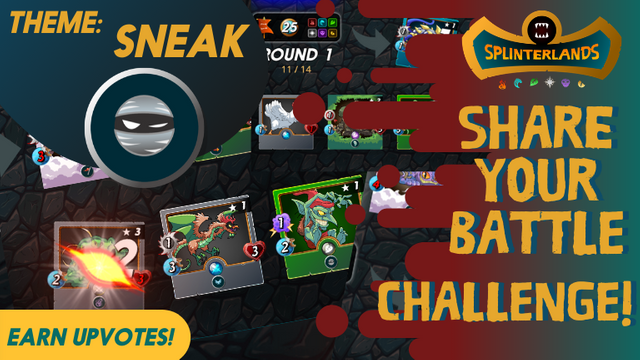 The time before Opportunity ability one of the most used abilities I kept in my battle formations was Sneak. The ability allows monsters position in any location in the formation to still be able to attack at every round. Saber Shark of the water splinter became a staple for sneaking up and making knock outs while Kobold Miner of the fire splinter a staple due to its low mana yet aggressive sneak up and knock out. I had much love for the Sneak ability and here is a result of a battle where I used Saber Shark. Enjoy!
The Battle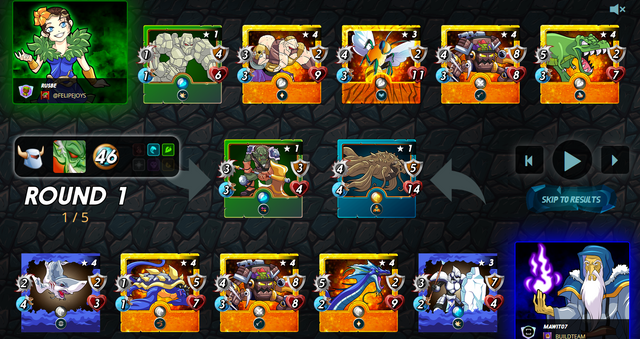 The battle limited with 46 mana and rule sets were armor up and up close and personal. With the restriction of melee monsters in use only and there was additional defense the main choices would have been life and fire splinter. However the match limited water and earth splinters only. I decided to go with water since I had more melee monsters in Sea Monster and Kraken.
My Formation
My tank monster was Kraken followed up by defense monster in Frozen Soldier, then Sea Monster and Goblin Mech. Four really high attack and health monsters. I finish off with Turtle and Shark. I could have put Shark in the middle of the formation however in lieu of the middle formation only able to attack if they were lead made me lean toward putting shark at the rear. The idea of this formation was to have a strong defense while also a strong lead monster.
My Opponent's Formation
My opponent in a similar plan started out with high attack and health monsters starting off with Orc followed by both Stone Golem and Flesh Golem. Then goes with Goblin Mech, Nectar Queen and finishes with Rexxie. Although the stats on all their monsters were high the limitation of only having one monster, being the front monster, attacking limits their ability to do excessive damage.
The Battle Results

The battle was long hard fought and fatigue was the final blow that took out my opponent's last monster in Nectar Queen. Their Rexxie was knocked out in several rounds just by my Shark. Goes to show how useful the sneak ability can be. If you are interested in watching the match here is a link..
If You have yet to take part in playing this great game called Splinterlands please click on my referral link. It is free but in order to earn real assets such as cards and token you would have to invest in a starter deck or purchase game cards. Join the discord to learn more. Good luck!

THANKS FOR READING! CONTINUE TO PLAY SPLINTERLANDS!