I get a lot of praise for my game, especially from my Guildmates, but the truth is, I'm still a newbie. Every day I become aware of some aspects that previously went unnoticed and I learn new strategies.

Looking back on my performance a few seasons ago, I realize that I played a lot worse and my criteria for choosing cards before the match was much more random, at that time if I managed to reach the Champion 2 League it was by luck, and sometimes I didn't even get the classification.

Now I am more and more aware of what I am doing, I know that the luck factor still exists, but by making smart choices, I can put the odds in my favor and that was what happened yesterday, when I reached the necessary 4200 points rating, with 4 days left for the end of the season.
To demonstrate this evolution, I want to make a brief analysis of the matches that led me to this glorious level: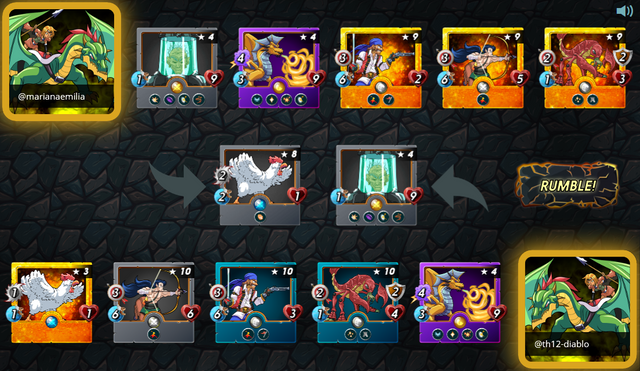 @marianaemilia versus @th12-diablo
This first battle with both sides using the same cards, I found it very instructive, as it was won, thanks to my Furious Chicken in the first position, which made me win precious times.
While my snipers first shots hit the Gold Dragon, my opponent's snipers met my Lord Arianthus, so in the second round, I was able to eliminate the powerful enemy Dragon.
At this moment it is as if the battle is starting again but I have an extra Gold Dragon card: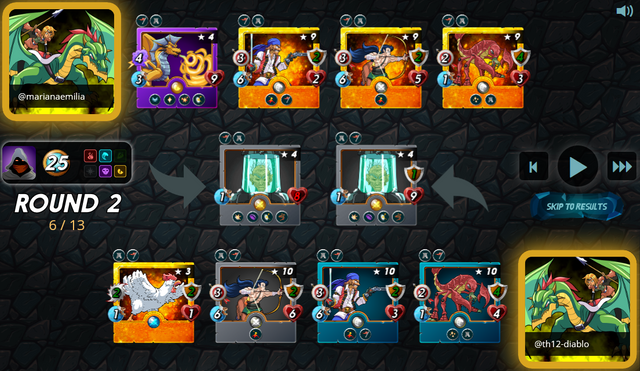 With this advantage, even though I had 3 cards with level 9 compared to my opponent's level 10, I was able to win.
The conclusion is that my Chicken was decisive while that of my opponent was passive in the last position.
Logically, if it was a battle with Sneak skill cards, then the Chicken in the last position would be better placed and in this case, everything would be different.

I still want to analyze 3 other battles in this rally that were noteworthy for me and that contain in each of them, some strategic interesting aspects and somehow reflect my evolution as a player.
I intended to bring them all together in a single publication, but it would be very long, so if you liked this content, stay tuned, because tomorrow has more!
---
All images: @splinterlands.
---