Solution for preventing bots playing level 1 cards from farming rewards and diluting DEC & cards value
Accounts with no cards or very few & low level cards are getting into very high leagues and earn a disproportionate amount of rewards. It has a strong impact on DEC value and card value.
I have just coded a simulation script to have a better insight into the problem and possible solutions.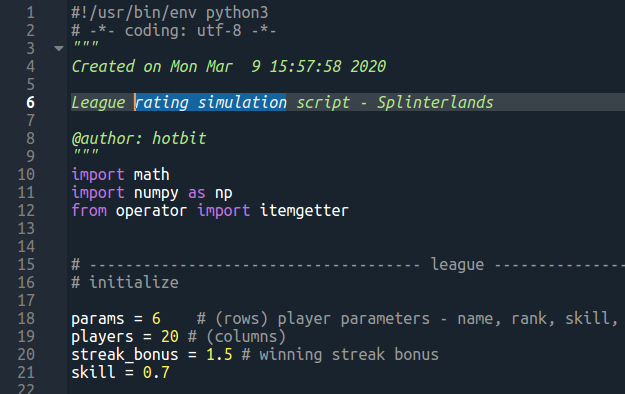 Problem
Accounts operated by bots with very few & low-level cards advance to high leagues, farm rewards and devalue DEC and card value.
Cause
The problem is caused by:
One league for all system. I have proposed a new multileague system which I'm planning to describe in more detail later this week.
Rating system. This post examines the rating system and shows part of the solution.
Bots play often 10 times more games than humans - well, they don't get tired!
Simulations
Assumptions:
A bot plays ~ 10 times more games than a human player
Quality - a 'human' player in the table represents a player that is on the average a better player or has higher-level cards; it was simulated as the human has a higher chance to win against a bot/low-level player, i.e. 0.7 means has 70% chance to win against a bot or another human with much lower level cards.
Edit: bot vs bot & human vs human have 50% chance of winning;
Rating - all in the league start the season with 1000 points; modified ELO rating is used to update player ratings after the each game
Games - number of games played
Simulation one - winning streak bonus included
The current rating system allows for a special winning streak bonus, which is a big deviation from the ELO system.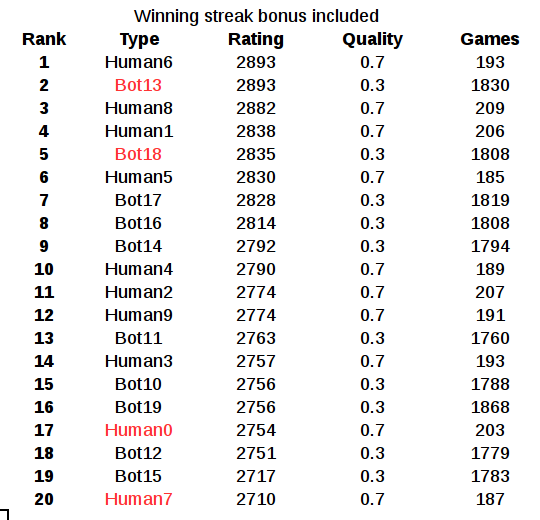 Despite starting at 1000 points, all players have advanced and several bots occupy top positions in the league.
Simulation two - winning streak bonus removed
Let's see the next table: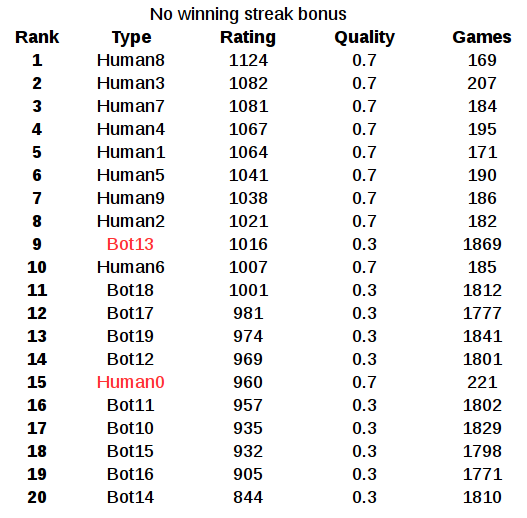 There is still one lucky bot in the top half of the table and one quality player in the bottom half, but the ranking looks much better!
Conclusion
Level one / no card bots can be quickly (partly) tamed by fixing the ELO system for Splinterland. This step requires little resources and time.
Several further improvements to the game can be introduced through the Multi League system, which requires more effort to implement.