Untamed is coming! Better prepare!
Beta Cards are Running Out
When I started playing Steemmonsters some months ago, I was not aware of cards being capped. I was assuming that like for the physical TCGs I played there would be reprints of all collections with additional collections being added but none taken out. It seemed to make sense because Beta was basically a reprint of Alpha and Alpha was what I would have considered a 1st Edition which is usually trading for a higher price than the following reprints.
Being a newbie under a false assumption I started collecting and powering up each card available in the game. I believed I had all the time it would take and eventually the cards would all be maxed out with new collections following in their footsteps.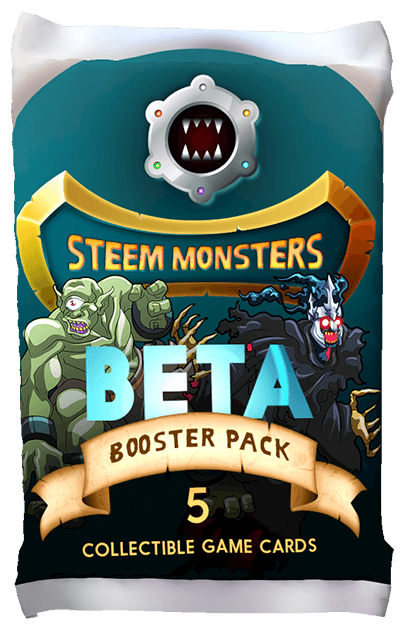 Apparently, this is not the case. Beta packs sold out some weeks ago and are never to be re-printed. The pre-sale of an entirely new Untamed collection has started and is about to finish and my Beta cards are still far from max level.

Change of Strategy
Realizing I would have to triple my investment for the main cards to reach max level, I decided to change the plans for my deck. My new declared goal: Fight with Gold League level caps
All rare summoners to level 6
Selected epic summoners to level 5
Some legendary summoners to level 3
All common beta monsters to level 8
All rare beta monsters to at least level 6; those unlocking new abilities at 7 to 7 (for use with epic summoners)
Most used epic monsters to level 4 (because 5 is freaking expensive and most abilities are gained at 4 already)
Selected legendary monsters to level 3
When Beta boosters sold out, I went through my entire collection. I had many duplicates I did not need considering my new goals. All of them I sold in order to spend the revenue on those cards still in need of levelling up.
The most emotionally challenging move was to sell my legendaries. There were many cards, like Hydra, of which I had two level 1 copies. One of them sitting in my collection unused and too expensive to power-up all the way to level 3. After some careful consideration I sold one and bought a Plado Emberstorm instead, which is now level 3.

Lesson Learned
If I could turn back time, I would take a different approach and focus on levelling up three of the main Splinters only instead of all 5. I would also carefully select the cards belonging to these Splinters rather than just collecting everything.
I am currently fighting my way around the Gold and Diamond Leagues with a well-balanced but mediocre team. Following the more selective approach would probably have taken me to the Champions League while still being able to complete 80% of all daily quests.


Plans for Untamed
I am still struggling to get my last remaining Beta commons to level 8. 12 of them are still at level 7. Looking at things realistically, I will not be able to level up all of them before the Untamed cards are unleashed on the Splinterlands.
Therefore, I will spend the first seasons of Untamed trying to reach my Beta goal. I will use this time as a chance to derive my strategy for the Untamed cards. I want to learn how they behave in battle and what other players value about them before heavily investing in Untamed myself.
@aggroed and @yabapmatt stated several times that the Untamed edition is not a replacement of the Beta cards. The idea is for both editions to complement each other. My general idea is to first find out which cards add the most power to my existing Beta deck and only add those to the collection. This way I can focus on getting them to high levels as soon as possible. For instance, I will probably not invest in Untamed tank cards, because Beta already offers a wide variety of tanks. But if cards with new or rare abilities (Opportunity to just name one) were added, these might give my teams an extra boost.

Ps.: Want to get in the game before the new Untamed phase starts? Join through my referral link and I will help you out to get started with some free cards.
Posted using Partiko Android