Splinterlands Card Giveaway - Silvershield Archers
Welcome to another Splinterlands card giveaway!
The Silvershield Archers are probably one of the most underplayed of the Reward Edition cards. When they were first introduced, they actually got a lot of play. Of course they would, they were one of the only 2 Mana monsters with a ranged attack. The only limiting factor was that they were restricted to the Life Splinter. If they had been Neutral monster they would have seen even more action. Then the Essence Orbs were released, and with them came the Armorsmith, also a 2 Mana monster, but with the highly desired Repair ability. So the Silvershield Archers were forced into semi-retirement. Only called into service on extremely rare occasions.
But now, with the new lower Mana Cap battle rules, the Silvershield Archers are seeing a resurgence in popularity as players try to squeeze as much firepower as possible into those very tight 12 and 13 Mana Rule sets. If you've been selling or burning all your Silvershield Archer cards up to this point, you may want to rethink that strategy and start building a powerful Silvershield Archers card of your own. To help get you started with this powerful duo, I'm giving away this Silvershield Archers card to one lucky winner when this contest closes at post payout time.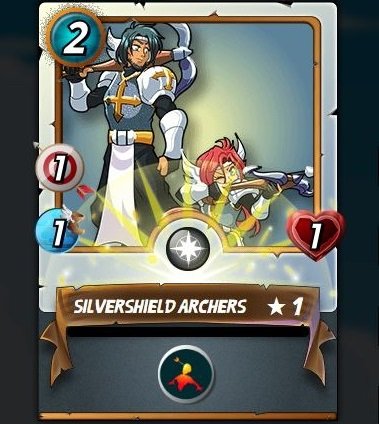 If the Silvershield Archers doesn't fit into your master plan for Splinterlands domination, you can always send it to the burn chamber and extract the 15 Dark Energy Crystals locked within the card.

How To Enter The Giveaway
For a chance to add this Silvershield Archers to your Splinterlands deck, just leave a comment with your Splinterlands account name. Only 1 entry per person. The contest will end at the 7 day point of payout for this post, when I will use a random comment selector to choose the winner.
Good Luck!

I am a proud member of