Splinterlands Giveaway - Silvershield Archers Card
Welcome to another Splinterlands giveaway!
If you play the Life splinter a lot but are looking to squeeze a little more firepower out of your team when the battle rules say no magic or shield in those low mana matches, then you need a high level Silvershield Archers card. These new rule sets and low mana combinations may not surface very often, but when they do, you'll be very glad you have prepared for them in advance.
If you've been selling or burning all your Silvershield Archer cards up to this point, you may want to rethink that strategy and start building a powerful Silvershield Archers card of your own. To help get you started with this powerful duo, I'm giving away this Silvershield Archers card to one lucky winner when this contest closes at post payout time.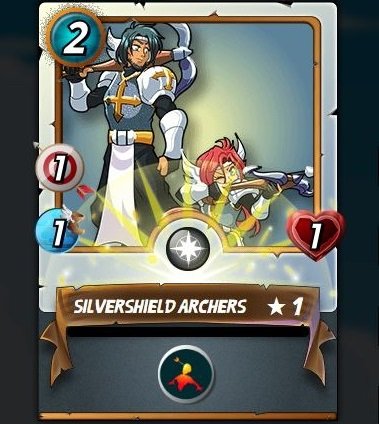 If the Silvershield Archers doesn't fit into your master plan for Splinterlands domination, you can always melt the card and extract the 15 Dark Energy Crystals locked within the card.

How To Enter The Giveaway
For a chance to add this Silvershield Archers to your Splinterlands deck, just leave a comment with your Splinterlands account name. Only 1 entry per person. The contest will end at the 7 day point of payout for this post, when I will use a random comment selector to choose the winner.
Good Luck!

Be sure to check out my other Splinterlands giveaways:
Out of Print Vampire Giveaway
Out of Print Highland Archer Giveaway

I am a proud member of