Vote for DEC on Twitter (Today)
In case you haven't yet heard or seen, @TronTrade is running a survey on Twitter as to the most popular new token. The obvious answer is DEC, and we've got about 8 hours left to tell the Twitterverse about it.
Vote (for DEC) here: https://twitter.com/TronTrade/status/1221392683274506240?s=20
Additional motivation (as if it's needed)
If you're looking for reasons to vote beyond your deep affection for DEC, check out some giveaways for voters by @clove71 -HERE- and by @mfyilmaz -HERE-.
And yes, of course I've already voted: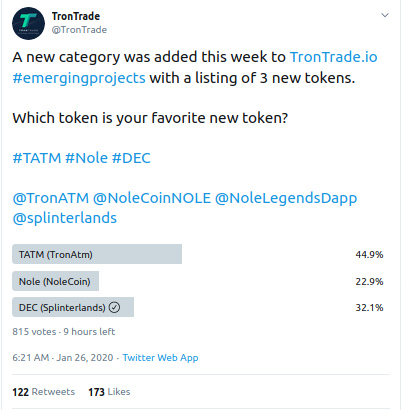 If you're not yet a Splinterlands Battler...
.... you want to be. Check it out -HERE-
Let's do this. :)