Sprtshub Updates: Registered Users, Posts Shared, Earnings and more.

---
The relaunched beta version of Sprtshub.io is 6 days today and we bring you some updates as it has been. Sprtshub relaunched on the 1st of June 2019 with a tokenized in-platform reward system to ensure engagement is fun and rewarding. We are still working and updating the platform to meet with planned standard.
---
Registered users.
As at time of writing this article, we have a total of 158 registered users from different parts of the globe and it has been smooth and exciting times getting to see the community build up organically.
The target is to get 1000+ active users by June 30th and I am sure that we will achieve that feat.
---
Articles shared.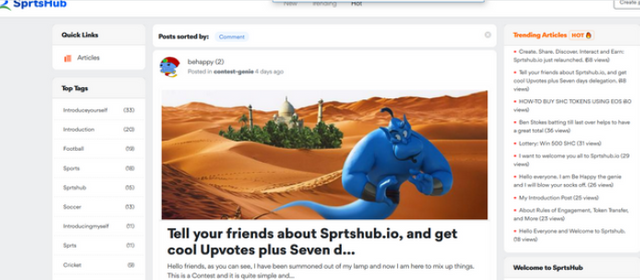 There has been more than 265 articles shared on the platform. Posting on Sprtshub hasn't been without some challenges for some users as is expected of a new platform and during the last 5 days, the team has been working around the clock to ensure they eliminate bugs and other glitches that will disrupt engagement and sharing.
Articles on User Introduction, Sports, Fitness, Photography have been mostly shared. We are sure as the community grows, there will be more articles shared on the platform and more reward generated.
---
First payout drops.


The first payout on the system dropped 20 hours ago and it actually felt good that the platform is really set to change the narrative when it comes rewarding interactions. Users reward are automatically transferred to users wallet at the end of the seven days waiting period. Cool, right?
---
Up next...
We are also presently concluding on token sale event which will allows users have a chance to own a stake of the Sprtshub Ecosytem.
We shall be releasing more updates to the platform that will ensure a fun and rewarding time for users. Gaming and other major updates will be rolled out in the coming weeks.
---
Our Social Media platforms.
Sprtshub is building a community that will involve individuals from various works of life and you can find us on Telegram.
Twitter,
Facebook.
Steemit.
Whaleshares.
Instagram.
Discord.
---
Article first appeared on Sprtshub.io