Sprtshub Token Offering starts today: Learn about the project and get staked today.
The Sprtshub Token Offering starts today: Learn about the project, what we do, meet the team and get staked today!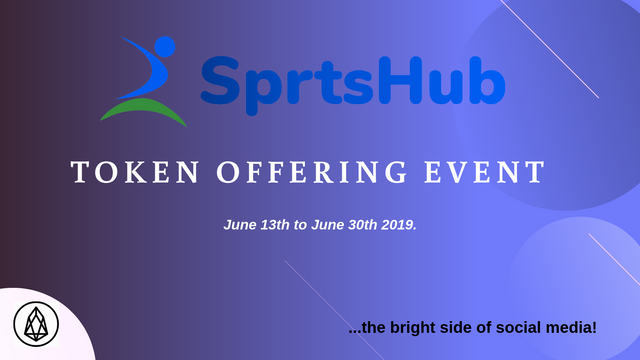 ---
The Sprtshub.io Token Offering starts today, 13th June 2019 and there is 20 Million SHC up for grabs in this round. Read about it here
---
Below is a breakdown of SHC issued and allocated thus far.
62million SHC has been issued, while 238million SHC are locked in the smart contract.
Over 2million SHC distributed through Stakemine.io, Airdrops and bounties.
8million SHC allocated for promotions and partnership.
8million + SHC distributed through pre-sale.
10million SHC allocated to Team/advisors from a 15% stake while half of the token will be locked down for a 3 year period.
33million+ is in reserve from where 20million will be offered in this round of token sale.
You can view the smart contract on Bloks.io.
---
The Team.
The core Sprtshub.io team is made up of Seven individuals in the roles of Developments (front-end & back-end), operations and management, 3 advisers and couple other individuals working remotely.
Ejemai Joseph is Founder and CEO.
Benjamin Onomor is Lead Developer and CTO.
Uchenna Nnodim is Lead, Software and Product Design.
Great Atare is Front-end Engineer.
Sylvester Eyeghele is Systems Engineer.
Daniel Ruvins is Community Manager.
Abel Oladele is Office Manager and Copywriter.
Theodora Thomas is Community relations partner.
Senator Ihenyen is Legal Adviser.
Justin Fondriest is Project Adviser.
Luke Stokes is Adviser on Dac and communities.
In the coming weeks, we will be adding more people to the team in bid to better consolidate on out offering.
---
Team Token.
The team has 15% of token which is divided into 3 parts. 50% is presently locked down to be released after 3 years in installments stages.
The other 50% will be divided and released in 2 stages with the team taking half now and half at the end of 9 months.
The team token of 15% is total allocated and none will be allocated aside that sum.
There is a provision for the running of the platform which will cater for the management team.
---
Unsold Token.
The token sale event will be done with 20 million being offered during this sale and up to 60 million in offering.
Users can purchase a minimum of 5000SHC and a maximum of 1 million SHC.
---
Difference between SHC and SHP.
SHC is Sprtshubcoin which is the liquid token of the sprtshub.io ecosystem and it can be exchanged for fiat and other select cryptocurency.
Sprtshubcoin is an EOS based token.
SHP is SprtsHub Power which is the platform's "Mana" that triggers the reward system through a process called "power up" and is valued 1:1 ratio* to the SHC. this will change as the token starts trading.
SHP can be converted into liquid SHC in a process called "power down" which has a 7 day period and a 13 weeks period to trigger full power down.
Power down is currently disabled on the platform and will be enabled when an account has existed for 3 months.
---
How the Sprtshub reward pool works.
The reward pool is designed to allow users create a reward for interactions and engagements through an upvote system.
Users who gets upvotes on their contents can cash out on 75% of the reward while 25% is shared between the curators (voters/reward providers).
SHC and SHP are priced at 1 SHC = 1 SHP.
Curation is influenced by the amount of SHP the rewarding account holds and payouts are done every 7 days.
Change in SHP reward.
The price in SHC will affect the SHP reward as there will be set amounts of rewards that the pool can give per time. Right now, the pool is giving as much as 90% in reward.
---
Target USD value.
The team is committed to seeing this project go far and are committed to keep working to ensure the roadmap set out for the project is achieved as per set time.
We have target to see the token value rise to $1 by 2020 which of course will be as a result of the constant developments planned.
---
About this token offering.
The major purpose of this token offering is to allow users own stakes on the platform as it will be impossible to reward interactions and engagements without a voting power.
This token offering is in place to give users the chance to be early adopters so they are part of the growth of the platform and help "build communities with a soul".
---
What runs Sprtshub
Sprtshub is not yet running on it's own blockchain, as it is currently a tokenized platform with her token built on EOS.
The project was previously on the Steem blockchain before it moved due to our decision to fork Graphene and work on our own blockchain. A decision that made considering that, what we are building will require us to be able to make core changes to infrastructure at any time.
You can confirm the development (of the first version) on the Steem blockchain by running a simple query on STEEM SQL.
The current codebase on which Sprtshub rests at the moment, is a miniature form of what we are currently implementing on our own chain. Our developers have been actively working to ensure we deliver good results.
The team that started the project remains the same team that still runs the project.
Sprtshub.io remains driven by vision and dogged leadership that sees things through.
---
Why you should participate in this offering.
The Sprtshub ecosystem has been operational since March 2018 and also has an MVP that is working and currently becoming a home to content creators.
Our offering is at $0.0035 and we have a bonus offering attached.
---
SHC Offering.
This Offering will start on the 13th of June 2019 and we will be offering #20,000,000 SHC at the rate of $0.0035 per SHC and it comes with a bonus system of up to 10%.
Date: June 13th - June 30th, 2019.
Time: Begins on Wednesday, June 13 at 12:00 GMT.
The minimum buy in is 5,000 SHC and maximum is 1,000,000 SHC.
---
How to purchase SHC.
Participating users must own EOS accounts to be able to participate as the tokens will be transferred to their accounts on verification of purchase.
You can participate in this offer with EOS, Steem, WLS, BTC and ETH.
Send EOS to sprtshubcoin on EOS wallet, (with EOS account name as Memo).
Send Steem to @sprtshub on Steemit.com, (with EOS account name as Memo).
Send WLS to @sprtshub account on Whaleshares, (with EOS account name as Memo).
Send BTC to 1LTGNHmyGw377BNb5vBo3C51VWa1g8a5qE (with EOS account name as Memo).
Send ETH to 0x5fccf293f8d5479c67f11bddd7700a60b9d522d3 (with EOS account name as Memo).
The Amount of token being paid for should be written in the memo together with user's Eos account. e.g 50000 SHC to 'myeosaccount'.
Token will be transferred to users EOS account after verification of purchase.
Thank you for joining us on this journey to "the bright side of social media!"
---
Our Social Media platforms.
Sprtshub is building a community that will involve individuals from various works of life and you can find us on Telegram.
Twitter,
Facebook.
Steemit.
Whaleshares.
Instagram.
Discord.