Sprtshub.io: A Content Ecosystem powered by Blockchain Technology.


Sprtshub.io is a tokenized content creation ecosystem for Sports, Health & Fitness, Arts, Games, Lifestyle and more… It is a platform powered by blockchain technology and has a multi-blockchain functionality that allows for seamless cross platform sharing.
At Sprtshub, we are building a content creation platform that allows users share and earn through a process called "mining with the mind". Starting out in 2018 with Sports as our first use case, the below chart will explain how we have successfully delivered on that on the Steem Blockchain.
---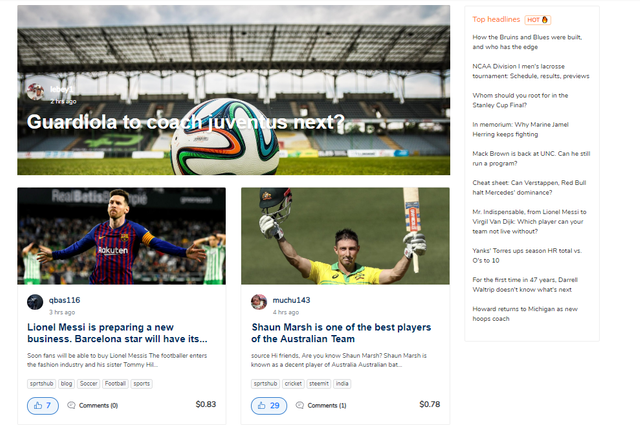 The blogging platform has been home to sports content creators since its creation and it has organically grown into a choice platform that houses sports lovers and enthusiasts on the Steem Blockchain.
Sprtshub.io started out with a unique content creation and curation service that allowed us verify every content created on the platform to guide against plagiarism and spam.
With moderators working round the clock to ensure compliance, we were able to have a platform that is free from plagiarized contents and spam.
With the relaunch of Sprtshub coming up in June 2019, we will be opening up the platform to more content creators across various genres and the community will be allowed to create policies and procedures for ensuring contents are Plagiarism and Spam free.

Token Powered by EOSIO.
The SprtsHubCoin (SHC) which is expected to power and reward interactions and engagements is powered by the EOS Blockchain. The SHC can be traded on exchanges in return for EOS tokens and fiat at selected exchanges that will be announced after the token sale event. Users can be assured of fee-less and fast transactions.
---
What can you do on Sprtshub?
Content Creation and Curation: Users will be able to create Sports, Arts, Health & Fitness, Game review contents and get rewarded for their contributions. Writing for many is fun while for a select class of individuals, it is a career and being able to do that to earn some rewards that can be converted to money is an amazing experience.
Gaming: There is a gaming section that is tagged, "Play to Earn" as against the very familiar model of "playing for fun". The platform is designed to allow developers put up their games for an opportunity to earn as users play. There is a mining mechanism built-in that allows the mining of the SHC token by players on any game of their choice.
Market Place: It is a known fact that there is so many information that can be sold on a daily basis as it affect data, wares, contents and ideas. The market place on Sprtshub will allow users to trade freely on a peer to peer basis and get rewarded with SHC for this interaction.
The idea of using the platform's traditional token to power this interaction is to ensure everyone involved in these exchange are protected.
---
What to expect in the relaunch.
In-Platform Reward System: The new updates to the platfrom will involve an in-platform reward system which will be the biggest news yet. The relaunch will see the platform operating independently and for her community while still being able to interact with multiple blockchains.
This feature will come packed with Delegation, Power Up, Transfer of SHC to Exchanges and Eos wallets.
Trending matrix. We will be introducing a trending topics matrix that will ensure interactions and feedback gets noticed and rewarded on the platform. Gone are those days where shit posts with big payouts trend on popular social media sites. Sprtshub will be leading a new trending algorithm that will ensure real articles get the right rewards and recognition.
Communities. The new update will empower teams and communities by allowing users create sub communities in a bid to ensure original content creators are seen and heard. Communities will be empowered to operate independently so they are able to create their processes of interactions with a bid to achieve a censorship resistant ecosystem.
Improved UI/UX: Users will find the new platform easy and smooth to use as we are making sure we make the interactions as easy as can be.
Cross Sharing enhanced. Users will now be able to share to multiple blockchains while they earn SHC on the platform thereby allowing for a wider reach in audience and engagements. We are presently positioned to connect users to Steem, Whaleshares, Telos and EOS (when MEOS launches in June).
---
Social Media platforms.
Sprtshub is building a community that will involve individuals from various works of life and you can find us on Telegram, Twitter, Facebook, Steemit, Whaleshares, Instagram and Discord.
Stay tuned for more updates.