Join the Sprtshub Token Offering: 13th to 30th June 2019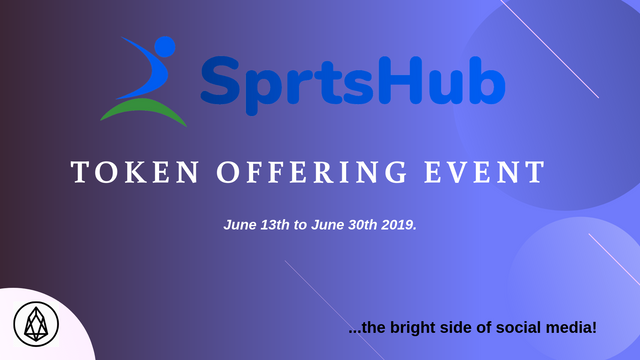 ---
The Sprtshub.io Token Offering starts on the of 13th June 2019 and there is 20 Million SHC up for grabs for this round. The Sprtshubcoin, (SHC) which is an EOS based token is the traditional token of the Sprtshub.io platfrom which is needed to reward engagements and interactions.
Holders of the SHC tokens will have the ability to power up their accounts to enable them have a stake in the Sprtshub Ecosystem that is based on a Proof of Stake Algorithm.
---
SHC Offering.
This Offering will start on the 13th of June 2019 and we will be offering 20,000,000 SHC at the rate of $0.0035 per SHC and it comes with a bonus system of up to 10%.
Date: June 13th - June 30th, 2019.
Time: Begins on Wednesday, June 13 at 12:00 GMT.
The minimum buy in is 5,000 SHC and maximum is 500,000 SHC.
---
How to purchase SHC.
Participating users must own EOS accounts to be able to participate as the tokens will be transferred to their accounts on verification of purchase. You can participate in this offer with EOS, Steem, WLS, BTC and ETH.
Send EOS to sprtshubcoin on EOS wallet, (with EOS account name as Memo).
Send Steem to @sprtshub on Steemit.com, (with EOS account name as Memo).
Send WLS to @sprtshub account on Whaleshares, (with EOS account name as Memo).
Send BTC to 1LTGNHmyGw377BNb5vBo3C51VWa1g8a5qE (with EOS account name as Memo).
Send ETH to 0x5fccf293f8d5479c67f11bddd7700a60b9d522d3 (with EOS account name as Memo).
The Amount of token being paid for should be written in the memo together with user's Eos account. e.g 50000 SHC to 'myeosaccount'.
Token will be transferred to users EOS account after verification of purchase.
---
Bonus offer.
Purchases of 50000 SHC 5% bonus
Purchases of 75000 SHC 8% bonus
Purchases of 100000+ SHC 10% bonus
Users with question can utilize any of our social media platforms or get immediate assistance on Sprts Telegram and Sprts Discord
---
About SprtsHubCoin.
Sprtshubcoin is the traditional token of the Sprtshub ecosystem and has a total supply of 300million with a circulating supply of 100million. It is a token that will allow users get rewarded for their engagements and interactions through blogging and gaming.
---
What are the benefits of buying SprtshubCoin.
Participating in this SprtsHubCoin Offering means, you are buying into the Sprtshub ecosystem that will be taking her users to "the bright side of social media." As a Content Creation and Gaming ecosystem, users will be able to create a reward system for themselves through the ownership of staked SHC.
With the blogging platform as MVP, users can be sure of a platform that is already working with an existing community.
Sprtshub has been in operation since March 2018 and has been a platform for Sports lovers and enthusiasts to share contents that matters to them on the Steem Blockchain. Since the relaunch of the tokenized platform, the daily active users has increased and still growing.
Exchange listings have been confirmed and listing will be in July 2019.
---
After the offering.
Unsold tokens from the offering will be returned to the reward pool and work will continue on the platform to make sure the platform keeps innovating to ensure an ecosystem of soulful communities.
Exchange listing will be in July 2019 when we will have concluded every arrangements.
---
Our Social Media platforms.
Sprtshub is building a community that will involve individuals from various works of life and you can find us on Telegram.
Twitter,
Facebook.
Steemit.
Whaleshares.
Instagram.
Discord.