Contents and Activities to publish on Sprtshub.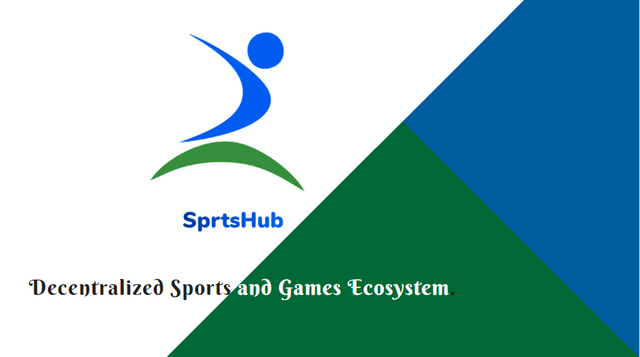 Sprtshub is a community about Sports and Games. What this means is, as a user of this platform, you can create contents and activities about Sports and also through Games, plays, development and deployment. I will explain these in details.
---
This post is long and contains pieces that will help new users know what is expected of them and how to help the community thrive as well, so pelase take time to read through and drop your comments.
Sports on the Sprtshub community.
Sports contains a very wide scope of topics that are a great fit for the Sprtshub community and it will be a good thing if users can identify these and work in line with the theme of the platform.
Some of these sports topics include:
Soccer
Walking
Jogging
Football
Swimming
Volleyball
Basketball
Hockey
Javelin
Cricket
Athletics
Wrestling
Boxing
Marathon
Mixed Martial Arts
Judo
Golf
Karate
Cycling
Moto GP
Car racing, F1, etc
Olympic sports
Beach Soccer
Water sports
Boat racing
Aerobics
Aikido
Archery
Artistic gymnastics
Baton twirling
Bodybuilding
Discus throw
Fencing
Figure skating
Horse racing
Kickboxing
Kung fu
Long jump
Pole vault
Powerlifting
Sword-fighting
Weightlifting
Aerobics
High jump
Handball
Horseball
Hurling
Kickball
Lacrosse
Polo
Racquetball
Softball
Squash
Table tennis
Long Tennis
Unicycling basketball
Unicycling handball
Unicycling hockey
Bridge
Checkers
Chess
Mahjong
Kayaking
Bobsleigh
Canoeing
Cross-country skiing
Rafting
Skibobbing
Surfing
Rowing
Scuba diving
Cross-country running and equestrianism.
While the list is still long and can take as much as what is written here, it is important to note that, Sports is part of what we do everyday. Walking, Jogging, Exercising, Hiking, playing games like Mahjong and Chess etc are all forms of sports and that means, as a user of this platform you cannot be short of what to write about.
To be more clear on what to write about, you can check the internet for "types of sports" and you will come up with lots of ideas.
I find it is very common that football/soccer is the primary focus for may and they tend to make it look like sports content creation has to do with what they see on TV.
Sprtshub is a sports ecosystem open to professional and amateur athletes alike and the purpose of this community is to feature topics from all fields of Sports and Games.
---
The Sprtshub gaming system is a "Play to Earn" facility that will make gaming fun and rewarding from the traditional gaming systems that seek to have no reward for the players.
Are you a games designer, developer, player and critic? Then you can find a place to thrive on Sprtshub because, we have a gaming facility that will allow for game developers to develop their games and have it powered up to bring about about a reward system for the said developer.
Also as a player or critic, you can help the developer validate his skills through game plays while being able to earn rewards that are proportionate to the game in question.
Sports and Games reaches a very wide audience globally, so don't forget to be creative and sporty.
---
What doesn't fit in Sprtshub.
Below are topics and things that cannot be posted or done on Sprtshub..
Plagiarized contents.
Crypto
Poems
Bitcoin
Technology
Motivational posts
Harassment and toxicity.
Single image posts of any topic
Stolen content regardless of the topic
Copy Paste content regardless of the topic
I will explain some of these in the list for clarity purposes.
---
For users looking to post about crypto, bitcoin, technology, motivational posts, poems/poetry, homesteading, Single image posts, please do well to check out Steemit, Whaleshares, Instagram, Twitter, Facebooketc.
---
For "technology", if the said content is not about a game, then it is not allowed on Sprtshub., for those picking out technology, be sure to get it right. Don't write about how to hack systems or trouble shoot your computers because it isn't gaming, but, you can post about your favorite game and also share your gaming experiences.
While "Motivational posts" is cool, it is not allowed on Sprtshub. because it has no bearing with sports and games content creation or play.
For "Single image posts" which many like to do, we will like to see real contents that adds value and not come image copied from the internet. There are platforms for such, such users will thrive doing it on those platforms.
Stolen contents and copy and paste are termed "stealing" and should never be encouraged for any reason and we will not be encouraging such on Sprtshub..
Harassment and toxicity is a common happenstance on the internet and here at Sprtshub, we will be making sure we do not allow such take roots here. We are out to create a truly global community and that means anyone is welcome "as long as they are not breaking the rules" of the platform.
---
You can post these on Sprtshub.
There are some contents many have no idea they can and should post on Sprtshub, so see below and know them.
Sports gossip
Sports Meme
Health and Fitness
Fitness and exercise routine
Creative and fiction sports writing
Photography of sporting and fitness activities
Arts that has to do with sports and games be it of the stars, coaches, stadium, tools etc
I have to stress that, we will not allow "Landscape or Flowers" photography because although it is photography, it isn't sports and until there is a sports that has to do with flower planting and grooming, we will not be allowing that. Also, selfie photography of you and your friend having diner or packing 'PDA' is not sports photography.
---
How we plan to fight spammers and plagiarist.
As you already know, there is a downvote button on the Sprtshub platform and it was created to help the community police itself as a self governing ecosystem.
So to make sure we are able to keep the platform sane and in check to ensure compliance, we have a @Sprtscleaner and @Sprtsmod accounts that will be used to hide and completely mute spam and plagiarism. We do not think it is right for spammers and plagiarists to rip the community off so, we will be expecting the community to work together to counter such behaviors.
You can report plagiarism and spam in the Plagiarism and Spam reporter channel on Discord.
To ensure sanity and progress, there must be checks and balances and while these functions will be in place it will not be used to with hunt or abuse any genuine user.
---
We will keep updating the community of our progress and advancements. Be good to one another and help us fight plagiarist and spammers so we have a global sports and gaming community that truly thrives.
---
Our Social Media platforms.
Sprtshub is building a community that will involve individuals from various works of life and you can find us on Telegram.
Twitter,
Facebook.
Steemit.
Whaleshares.
Instagram.
Discord.
Thank you.
---
This article first appeared here.