U-16 national team: losing badly in 2017, championship in 2018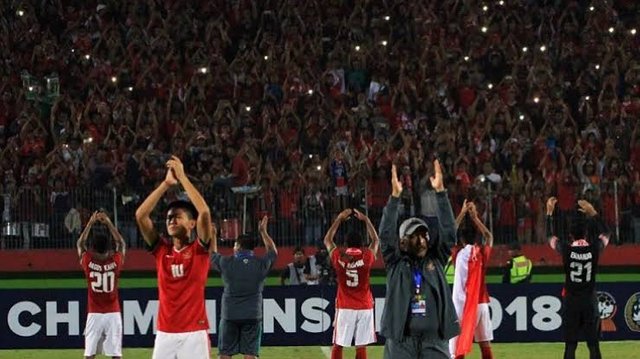 image
The Indonesian Under-16 National Team showed rapid progress within a year. They can't do much in the U-15 AFF Cup in 2017, but they won the U-16 AFF Cup this year.
Most of the U-16 national team players this year were indeed those who also appeared in the AFF Cup last year. Names like David Maulana, Brylian Negietha Dwiki Aldama, Rendy Juliansyah to the twins Bagus Kahfi and Bagas Kaffa are already in the team.
However, at that time young Indonesian players were still experiencing difficulties and really could not do much. Contrary to this year.
In the 2017 U-15 AFF Cup, Indonesia failed to qualify from the group phase and finished fifth in group A. They only won once against Singapore (2-0). The remaining 2-2 draws against Myanmar, and loses in a row against Thailand (0-1), Australia (3-7) and Laos (2-3).
However, the disappointment was paid in full this year. Indonesia performed flawlessly in the 2018 AFF U-16 Cup. The record that was found was very brilliant when they performed as hosts.
Indonesia managed to wipe out the group stage match with five wins against Myanmar, Vietnam, Cambodia, the Philippines and Timor Leste. Even able to make 21 goals and only 3 times conceded.
Entering the knockout phase, Garuda Asia beat Malaysia in the semifinals with a narrow 1-0 victory and finally won a penalty shootout against Thailand in the top-flight 1-1 (4-3).
This victory not only eliminated disappointment in 2017, but also in the 2013 U-16 AFF Cup. At that time, Indonesia also managed to qualify for the finals, but lost on penalties on the top of Malaysia 1-1 (2-3).