Greysia / Apriyani Tumbles, Indonesia Returns with One Bronze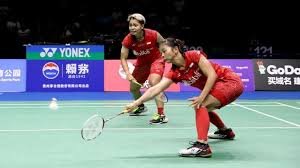 Source image
The Indonesian women's doubles, Greysia Polii / Apriyani Rahayu, failed to move into the final of the 2018 Badminton World Championship after losing to Japanese pair Mayu Matsumoto / Wakana Nagahara. Greysia / Apriyani returned with a bronze medal.
During a meeting at the Youth Olympic Sports Complex, Nanjing, China, Saturday (04/08/2018), Greysia / Apriyani lost two straight sets with a duration of 52 minutes. The Greysia / Apriyani rate is less okay in the first game, precisely after the interval until finally giving up 12-21.
Greysia / Apriyani tries to reply to the second game. The match went fierce with both pairs taking turns.
There had been a setting in this second game, but a barrage of attacks from Matsumoto / Nagahara failed to be blocked by Greysia / Apriyani and had to admit a 21-23 defeat in her first meeting with Matsumoto / Nagahara.
This defeat made Indonesia only returned with a bronze medal from Greysia / Apriyani, after the Indonesian representative fell first.
"We always start the opponent's attack, when we have pressed back, they are still ready. In the second game, they look a bit shaky, but they can be ready again. Today we are not calm in returning the ball," Greysia said after the match.
"We apologize because we played not like the expectations of the Indonesian people, PBSI officials, coaches, even our own expectations. We tried to introspect our shortcomings, so the champions did have to go through many stages," added Greysia.
"Matsumoto / Nagahara played fast, their blows were tight. Their playing pattern was a bit different from the other Japanese couples who still had a long lob, if they immediately attacked," said Apriyani.