Fajar / Rian Enthusiasm Welcomes Its First World Championship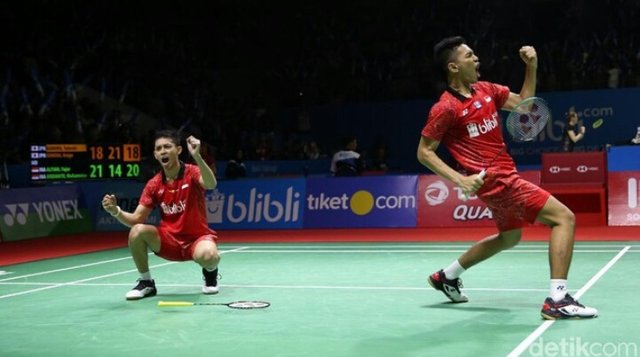 Fajar Alfian / Muhammad Rian Ardianto will be performing at the Badminton World Championships for the first time this year. They greeted him enthusiastically.
Fajar / Rian became one of four Indonesian men's doubles to be sent to the Badminton World Championship 2018. Besides them, the other men's doubles are Kevin Sanjaya Sukamuljo / Marcus Fernaldi Gideon, Berry Angriawan / Hardianto, and Wahyu Nayaka Arya Pankaryanira / Ade Yusuf Santoso.
As the ninth seed at the Badminton World Championship 2018, Dawn / Rian immediately qualified for the second round for getting a bye. They are just waiting for the winner of the match Bahaedeen Ahmad Alshannik / Mohd Naser Mansour Nayef (Jordan) versus Jacco Arends / Ruben Jille (Netherlands).
"Still we have to be wary of whoever the opponent is because of this World Championship, which we definitely want to show the best game," Rian said.
"It's possible because in the first half it can be bye, in the second half we meet double Dutch or double Jordan, so still be vigilant, let alone this World Championship and this is our first," he said.
"But at least our experience when down in previous tournaments, such as Indonesia Open and other super series into our capital," he said.