Less calm, Acchedya failed to donate a medal for Indonesia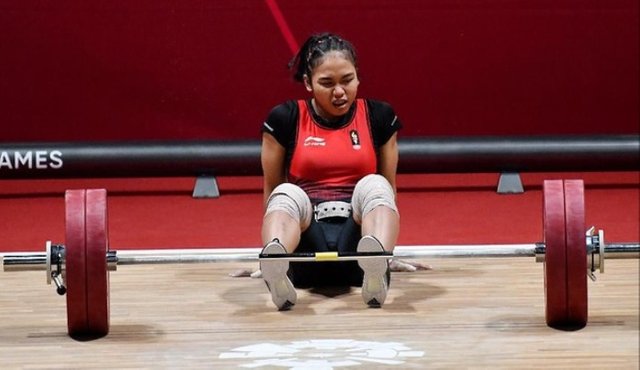 Lifter daughter Acchedya Jagaddhita failed to reach the medal target at the 2018 Asian Games. The 21-year-old Lifter claimed to be less focused when performing.

Acchedya who dropped in 58 kg class competed in Hall A JIExpo Kemayoran, Central Jakarta, Thursday (08/23/2018), actually started the snatch 93 kg class well. However, during the trial in the second and third batches of 97 kg, he failed.

While in the clean and jerk force, the best record of the daughter of the national coach Supeni is only capable of 115 kg. Previously in the 121 kg force trial, he failed again. With a total force of 208 kg, Acchedya only finished fifth.

Acchedya admitted he appeared too hastily. In addition, his breathing was also not long enough to affect him when lifting weights.

Not satisfied because in fact this is not my target. I should get a medal because the total force target should be 220 kg, Acchedya said after the match.

Competition shown in 58 kg class is actually competitive. This is inseparable from the participation of 2016 Olympic gold medalist Sukanya Srisurat and 2016 Olympics bronze medalist Kuo Hsing-chun.

Sure enough, both of them won gold and silver medals at this years Asian Games.

While Acchedya actually had a chance as long as the total target of 220 kg could be achieved. Because the bronze medalist, Mikiko Andoh, only secured a total of 218 kg.

Actually, I already know that his opponents are two Olympic athletes and the others are opponents in international championships and I have tried. But it turns out I have to train more, more, more, he said.

Yes, I have been training hard but the opponent turned out to be harder. It means that in the future I have to train many times over.

Meanwhile, Supeni said there must be a thorough evaluation for all female lifters. He also realized that there was an inequality of experience between the athlete and the opponent he faced.

Indeed we need a lot of learning and evaluation as soon as possible. Especially if we refer to the development of other countries, where they (other country lifter) can recover faster, recovery is faster, said Supeni.

We will continue to evaluate the location of the error. Apart from Sri Wahyuni I have no pressure on other athletes because the flight hours are still under Sri Wahyuni. So there must be emphasis that science must be developed quickly in addition to training, he added.