Bayern only won 1-0 over the fourth division team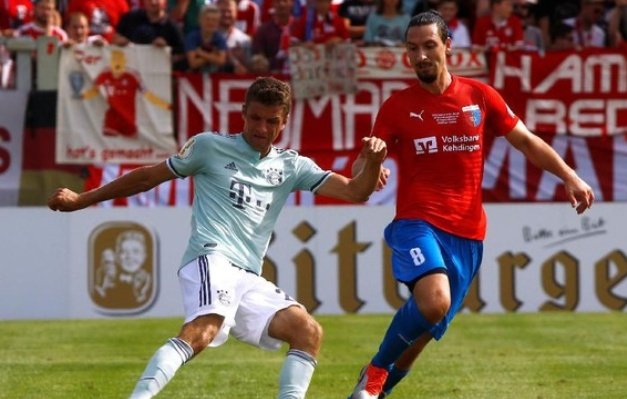 Bayern Munich only won 1-0 over SV Drochtersen / Assel in the first round match of the 2018/2019 DFB-Pokal. Thin wins were also won by two other Bundesliga teams, Wolfsburg and Bayer Leverkusen.

Bayern began the journey in the DFB-Pokal by fighting SV Drochtersen / Assel at Kehdinger Stadion on Saturday (08/18/2018) night WIB. Down with the best strength, playing Manuel Neuer, Mats Hummels, Joshua Kimmich, Franck Ribery, Arjen Robben, and Robert Lewandowski, Bayern had a hard time making goals.

A new goal was created in the final minutes, precisely in the 81st minute through Lewandowski. This goal became the only difference between the two teams, as well as passing Bayern.

Wolfsburgs narrow victory was also achieved, when facing SV Elversberg, who is also a fourth division team. Wolfsburgs single goal was scored by Daniel Ginczek in the 76th minute.

While Leverkusen was even bothered by the German League five division team namely 1. CfR Pforzheim. Their winning goal was even printed from the penalty spot through Lucas Alarios shot in the 27th minute.

The Bundesliga teams that won the most were Werder Bremen and Hoffenheim. Against Wormatia Worms which is a fourth division team, Bremen won 6-1, through Yuya Osako, Florian Kainz, Philipp Bargfrede, Max Kruse, Maximilian Eggestein and Johannes Eggestein. One goal returned Wormatia made Cedric Mimbala.

While Hoffenheim also won 6-1 over Kaiserslautern thanks to goals from Joelinton (3 goals), Nico Schulz, Pavel Kaderabek and Joshua Brenet. While Kaiserslauterns entertainment goal was scored by Lukas Spalvis.

With this result, the five Bundesliga teams qualified for the second round of the DFB-Pokal. The second round draw was held on 26 August.