Manchester united were defeated at Molineaux on Tuesday night. Wolves for the second time defeated Manchester united but this time in the premier league (2:1)

This defeat jeopardizes Manchester uniteds place of making it among the top 4.

Ole Gunnar Solskjaer came with his team with the hope of climbing back into the top four position but was utterly disappointed as the wolves team were out to get a win in the match.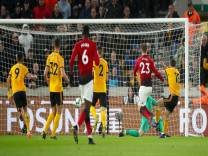 Scott McTominay's first goal gave United the lead in the match but it didnt take long for wolves to equalize.

Ashley Young was red carded and it didnt take long before Chris smalling scored an own goal.