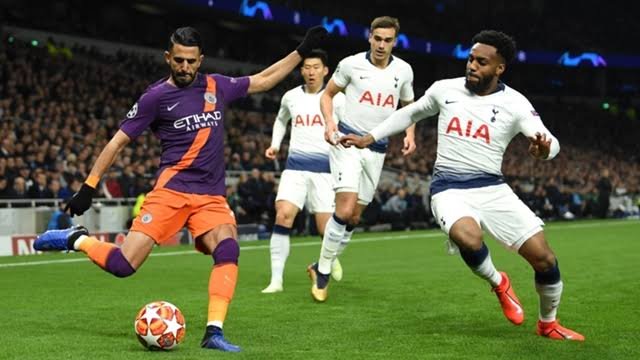 Manchester city will take on Tottenham Hotspur at the Etihad stadium today, the match is an early kick off and I believe it going to be an exciting one.
Both sides have been in a tough battle this season due to both teams playing against each other at the Uefa Champions League quarter final matches. Surprisingly Manchester city was eliminated by Tottenham Hotspur after a tough second leg encounter that ended up with both sides scoring seven goals in 90 minutes. Spurs are through to the next round while Manchester city hopes of winning the Uefa Champions League this season is over. It should have been an easy task for Manchester City but Tottenham determination earned them the semi final spot and don't be surprised we can see such determination again today.
Why the match is a must win for both sides.
Manchester City sits second on the English Premier League with two points behind Liverpool fc. As it stands if Manchester city can win all the remaining matches this season, they are sure to be the league winner. This means a draw or loss against Tottenham today could end City hopes of winning the league if Liverpool wins all matches. The match is definitely a must win for Manchester City.
Tottenham on the other hand sit third but that spot is not secured due to the difference between them and the teams beneath. Tottenham losing or playing a draw also could see them drop from the top 4 so quickly if teams like Chelsea and Arsenal grab all three points. Tottenham has been excellent so far this season and I want to believe they won't want to be left out of the Uefa Champions League spot for the coming season.
Both sides have players that can deliver the job perfectly, so we wait and enjoy the match at 12:30 today. Thanks for reading