Match Results Juventus v AC Milan: Score 2-1
Leaders Juventus host 4th place AC Milan at the Allianz Stadium on Serie A 2018/19 giornata 31, Saturday (06/4). Juventus won 2-1 and succeeded in getting closer to the championship ladder.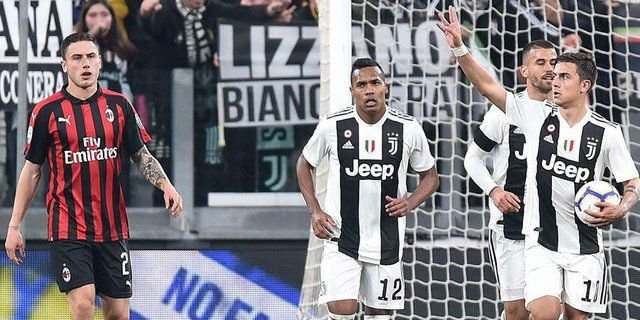 Milan took the lead through Krzysztof Piateks goal on 39 minutes. Juventus turned the score through a Paulo Dybala penalty in the 60th minute and substitute Moise Keans goal was 84 minutes.

Juventus now have 84 points from 31 matches and are getting closer to their 8th consecutive Scudetto. If Napoli (63 points) lose to host Genoa (08/4), then Juventus will be mathematically certain to be the champion. Meanwhile, Milan are now in danger of being thrown out of the top four.

Juventus started the game against Milan with some changes to the composition of the players. Without Cristiano Ronaldo, Martin Caceres, Andrea Barzagli, Douglas Costa and injured Juan Cuadrado, coach Massimiliano Allegri applies the 3-5-2 scheme.

Awaited away games against Ajax in the quarter-finals of the Champions League first leg, Allegri reserved Miralem Pjanic, Blaise Matuidi, Moise Kean and Giorgio Chiellini. On the front lines, he put Paulo Dybala and Mario Mandzukic.

Meanwhile, despite losing Gianluigi Donnarumma and Lucas Paqueta due to injury, Gennaro Gattuso remained loyal with a 4-3-3 grip. Hakan Calhanoglu was shifted into midfield, while Fabio Borini, Suso and Krzysztof Piateks trio filled the attacking line.

Up to 25 minutes the game was running, the deadlock had not yet broken. Presence, Juventus have had to make a change of player. Emre Can is seen having an ankle injury, and Allegri doesnt want to take the risk. Sami Khedira entered in his place.

Milan surprisingly dominated the match in the first round. Milan even scored the opening goal five minutes before the end of the normal first half. Bakayoko cut Leonardo Bonucis weak pass, then sent a mature pass to Piatek at the end of the penalty box. Piatek beat Szczesny who tried to crash, and successfully brought Milan 1-0 up in Turin.

The goal was created shortly after Milans penalty claim for Sandros handball was not granted even though the referee reviewed the incident with VAR.

Juventus was stung and tried to increase the intensity of the attack before the break. But two Juventus opportunities through Mandzukics overhead kick and Dybalas long-range shot could be countered by goalkeeper Pepe Reina.

Juventus played a little better in the second half. Continuously trying to attack, Juventus efforts finally produced results 15 minutes after the break. Received Bonuccis long pass, Dybala accelerated towards the goal and was dropped by Mateo Musacchio in the forbidden box. The referee pointed to the spot, Dybala took the penalty himself, and beat Reina to equalize.

Next, Juventus are eyeing a reversal goal. Allegri then tried to strengthen his midfield, by entering Pjanic and pulling out Leonardo Spinazzola. Not long ago, Kean also entered to replace Dybala.

The two substitutes contributed greatly to bringing Juventus turned ahead six minutes ahead of normal time. Pjanic cut Davide Calabrias pass, then sent an pass to Kean in dangerous territory. Kean fired a low crossing shot which could not be stopped by Reina, and Milan fell.