Above is a recent interview with Tim Gick the CEO of Spotcoin!
Spotcoin continues to build a blockchain-friendly future in Georgia
Sometimes, one meeting can change the world. With our ICO firmly underway, Spotcoin is still extremely committed to meeting with developers, government officials, blockchain experts, enthusiasts, and investors. For us, we want to talk to everyone!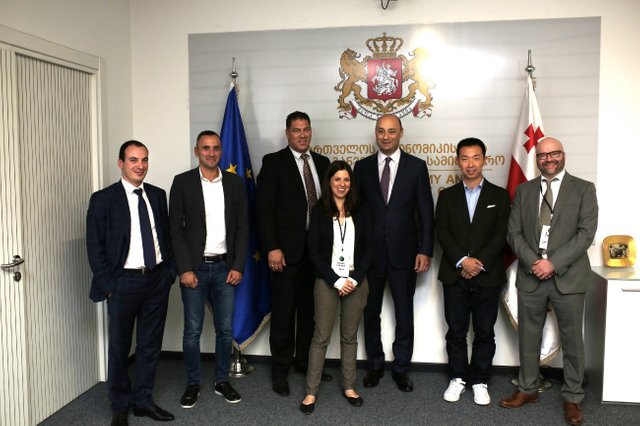 Minister of Economy George Kobulia (3rd from right) holds a meeting on blockchain technology with Avtandil Kasradze, Acting Chairman at GITA, Giorgi Abuladze, Spotcoin Co-Founder, Sean Mulcahey, Spotcoin CSO, Tamar Salant, NEO Global Development Business Development, Johnson Zhao, NEO Global Development General Manager, and Andrew Thornhill, Spotcoin Co-Founder
Last month we had one such meeting. Spotcoin had the great opportunity to sit down with Georgia's Minister of Economy and Sustainable Development George Kobulia and NEO Global Development General Manager Johnson Zhao to explore the future of blockchain technologies in Georgia in a working meeting.
The exchange of ideas included thought-provoking discussions with Avtandil Kasradze, Deputy Chairman at Georgia's Innovation and Technology Agency, NEO Blockchain Global Business Development Manager Tamar Salant, Spotcoin co-founders Giorgi Abuladze and Andrew Thornhill, and Spotcoin CSO Sean Mulcahey.
"We are heartened by Minister Kobulia's positivity and optimism, and the government's continued support and response to blockchain technologies," said Andrew Thornhill. "We are most ready to tackle the government's needs in this space, and we are excited by any possibility to develop a plan for optimizing government services that utilize blockchain technology.
We at Spotcoin are excited to try and connect foreign direct investment in fintech to opportunities in Georgia, to help create jobs and growth in our home country. It's why we pursued the hour-long meeting with the minister.
Spotcoin is hopeful to provide any input that can help shape necessary regulations in the blockchain and digital currency spaces.
For Spotcoin, the working meeting with Minister Kobulia is another example of our commitment to Georgia and the greater region. It is a pleasing development following our work to provide a new blockchain dictionary with vocabulary in the Georgian language to be used in an official capacity, and our work to bring the Black Sea Blockchain Summit and the NEO Black Sea Assembly and Hackathon to Tbilisi, Georgia.
We look forward to future fruitful meetings with Minister Kobulia, and we are happy to provide input to any ministry in the Georgian government. It's one way Spotcoin is making digital currency work for everyone.
Interested in more Spotcoin?
Want to get involved with the ICO? Original medium article:
https://medium.com/spotcoin/georgias-economy-minister-joins-spotcoin-neo-in-blockchain-talks-c24e27fbba7f
Residents and citizens of the countries are prohibited from taking part in the SPOT public sales: the United States, US territories, Ethiopia, Iran, Iraq, North Korea, Serbia, Sri Lanka, Sudan, Syria, Trinidad and Tobago, Tunisia, Vanuatu, and Yemen.
However, certified accredited U.S. investors can take part in the SPOT private sale. Any investment in digital currencies comes at a risk. No one should invest money that he or she can not afford to lose.
Forward-looking statements are provided to allow potential investors the opportunity to understand management's beliefs and opinions in respect of the future so that they may use such beliefs and opinions as one factor in evaluating an investment. These statements are not guarantees of future performance and undue reliance should not be placed on them. Such forward-looking statements necessarily involve known and unknown risks and uncertainties, which may cause actual performance and financial results in future periods to differ materially from any projections of future performance or result expressed or implied by such forward-looking statements.
Although forward-looking statements contained in this email are based upon what management of the Company believes are reasonable assumptions, there can be no assurance that forward-looking statements will prove to be accurate, as actual results and future events could differ materially from those anticipated in such statements. The Company undertakes no obligation to update forward-looking statements if circumstances or management's estimates or opinions should change. The reader is cautioned not to place undue reliance on forward-looking statements.