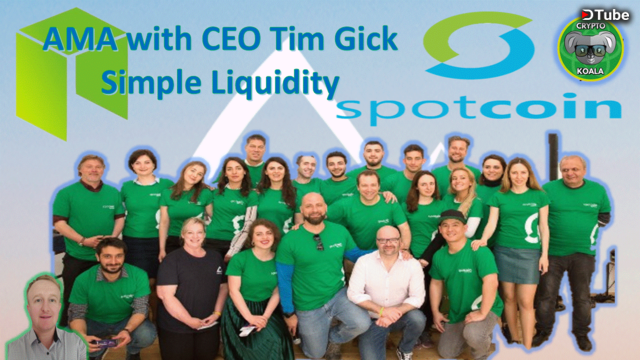 ---
Hello NEO and Crypto Community, The Spotcoin ICO is based in Georgia in the Blacksea region which is NEO powered project bringing OTC trading, merchant payment solutions and education to Georgia, Black Sea region and beyond.
The Spotcoin ICO is trusted digital currency provider and regional authority on blockchain technology, making the smart economy work for everyone through empowerment, transparency and innovation on the NEO network :D .
We talk about the team, the project, ICO, The Blacksea Blockchain summit, simple liquidity, SPOT token, choosing NEO?, and much more!
🔗Links to Spotcoin:
.
👍 https://spotcoin.com/ref/748b86ac-664a-11e8-8623-06de39ffb344
🎤 Spotcoin Website: https://spotcoin.com
👫 Spotcoin on Twitter: https://twitter.com/therealspotcoin
🗞️ Spotcoin Telegram: https://t.me/spotcointeam
---
🗞️ Join us on telegram! Andy (ICO review) & I two Aussie youtubers. Have created a channel 👍
Crypto Nebula Community - Crypto Knowledge Sharing
https://t.me/cryptonebulacommunity
---
👫👭👬Social- Me on other platforms-
Crypto koala - Twitter https://twitter.com/Cryptokoala_Aus
- Steemit https://steemit.com/@jamiebu
- Facebook https://www.facebook.com/Cryptokoala.io
-Investfeed-
-LBRY Cryptokoala
🦁 VERIFIED PUBLISHER ON BRAVE
Fast & Secure browser- https://www.brave.com/
---
📚 ICO's are considered as High risk investment, but can be high reward, make sure your carry out your research before investing.
📚 I enjoys making YouTube videos on cryptocurrency and I'm not professional advisor giving advice on investing and trading. I'm not saying buy these coins. You got research yourself guys. What I say is what I believe and my personnel opinion, apart from that I hope to see you on the moon or building on minecraft if you are trading cryptocurrency's.
💻 If you you want to mail or telegram me the koala lives at : [email protected]
https://t.me/cryptokoalaau
💰 CoinSpot- To trade and buy cryptos a Australian exchange
https://www.coinspot.com.au?affiliate...
💱 Software Wallet: for Cryptocurrencies
Windows/Mac/linux: http://exodus.io
🔐 Securing your Cryptos? Hardware wallet- Nano Ledger S
https://www.ledgerwallet.com/r/7f2e
---
▶️ DTube
▶️ IPFS