An Agent Might Make More In 2020 Than Any MLB Player
Being a player representative can be big money, especially if you are the top dog in the game.
This off season, there is one agent who is cashing in. Scott Boras had the three biggest names on the free agent market and he got them all mega-deals.
His run started with Stephen Strasburg signing a huge deal to return to the Washington Nationals. This was close to $250M over 7 years.
The next prize was Gerritt Cole who signed a record deal for a pitcher, easily crossing $300M.
The trifecta came when Anthony Redon, the best everyday player on the market, signed a $240M deal with the Los Angeles Angels.
All of this equates to over $800M in contracts.
Boras, as the agent, earns a percentage of each contract. While it is unknown, the industry standard is 5%. That means this offseason is worth over $40M to Boras. Of course, it is only the middle of December and Boras has other players who are free agents.
This means that his income from this Winter's activities, alone, could earn him more than the highest paid player.
Here is a list of the other contracts included what he negotiated over the last few years.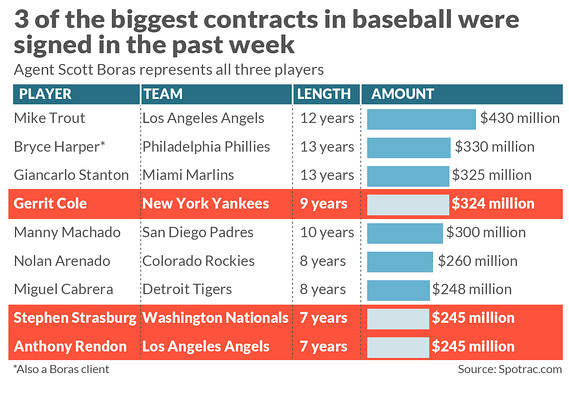 Source
We all know sports is very big business and this proves it. Owners are billionaires, players and agents are multi-millionaires, and the networks make a ton of money off the broadcast rights.
Boras is considered the top agent in baseball. He is known for his tough style which, most times, has resulted in his players cashing in with enormous contracts.
As 2019 closes out, he can look back on a very good year.
---
If you found this article informative, please give an upvote and resteem.