The weekend is quickly approaching and the 2019/20 Premier League season is about to kick off.
On Sunday, we have perhaps the tastiest head-to-head of the first round of fixtures as Manchester United take on Chelsea at Old Trafford.
With both clubs aiming for a top 4 finish this season, it will be interesting to see who gets the upper hand early on.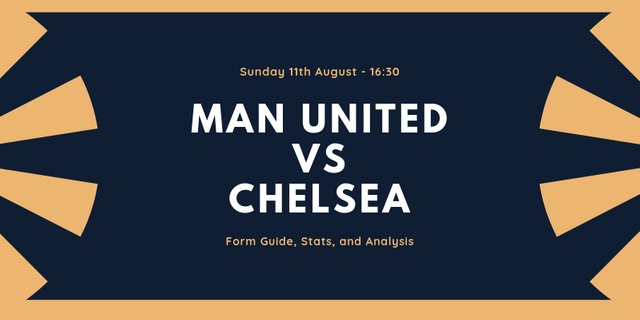 Form Guide
Manchester United
Manchester United found themselves struggling towards the end of last season and ended up finishing in 6th place in the Premier League and a whopping 32 points behind winners Manchester City.
Manchester United scored a total of 65 goals in the Premier League last season, an average of 1.67 goals per game. However, they also conceded 54 times, an average of 1.38 goals per game. In their final 5 league games of the season, Manchester United lost 3 and drew 2.
Chelsea
Chelsea also had a strange season last time out and it looked like Sarri was going to be sacked mid-season at one point in time. Nevertheless, the club went on to finish in 3rd place on 72 points and, as such, qualified for the Champions League this season.
Chelsea scored a total of 63 times in the league last season, an average of 1.66 goals per game, very similar to Manchester United. However, they conceded a lot less at 39 times, an average of 1.03 goals per game. In their final 5 league games, Chelsea won 1, drew 3, and lost 1.
Head to Head
In the previous 10 meetings between the clubs, Manchester United won 3, Chelsea won 4, and there were 3 draws. Chelsea failed to beat Manchester United in their previous 3 attempts.

Pre-Match Analysis
Manchester United
The world will watch on with interest as Manchester United take to the field for the first time this season. After a wonderful couple of months of form when he took over as manager, Solkjaer also went through a really rough patch after signing his permanent contract.
Nevertheless, Manchester United have dipped into the transfer market this summer and have looked to strengthen in a few key areas. Notable additions include Wan-Bissaka at right-back and Maguire at centre-back, both of which are an improvement. However, it is uncertain as to whether Pogba will remain at the club and Lukaku also seems certain to be leaving in this window.
If Manchester United are going to be successful this season then they need to stop being so leaky at the back. An unusual run of poor form from de Gea was the icing on the cake for opposition supporters last time as the brick wall seemed to crumble after years of keeping Manchester United afloat. I expect improvement here with a reinforced defensive line.
This is probably the best time for Manchester United to be playing Chelsea. Lampard has very little experience as a manager, has lost their best player in Hazard, and cannot bring in any new signings. If Solskjaer can get his team to play fast-paced attacking football then they may have enough to overrun Chelsea with the home support behind them.
Chelsea
Talk about being baptised by fire. Chelsea legend Lampard will know exactly what is on the line as he takes his new team to Old Trafford for the first game of the season. Start well and the pressure will ease off somewhat. Get a pasting and the media will be all over his appointment like a bad rash.
With Hazard now gone, Chelsea look somewhat toothless upfront. Nevertheless, they do have a decent defence so I think it's unlikely that they'll be worrying too much about Manchester United's attack. There is an opportunity for Lampard's team to catch Manchester United out here before they've had a chance to settle. After last season's awful run of form, an away goal could get the crowd groaning early on and that will only serve to put pressure on Solskjaer and his team.
If Chelsea can nullify Pogba in midfield then they should be able to control possession. The question then, however, is if they can go on to put the game to bed with their one truly world-class player now off in Madrid?
Prediction
Without Hazard's threat and with rookie manager Lampard at the helm, I think Manchester United have the edge here with home crowd advantage. That's not to say that Chelsea can't get something out of the game, but it may come down to who can take the initiative first.
Odds
The draw is somewhat tempting at odds of 3.45 but all of the 1x2 markets offer decent returns.
Both teams to score (yes) seems fairly priced at 1.84.