Lebron James went fierce against the Hawks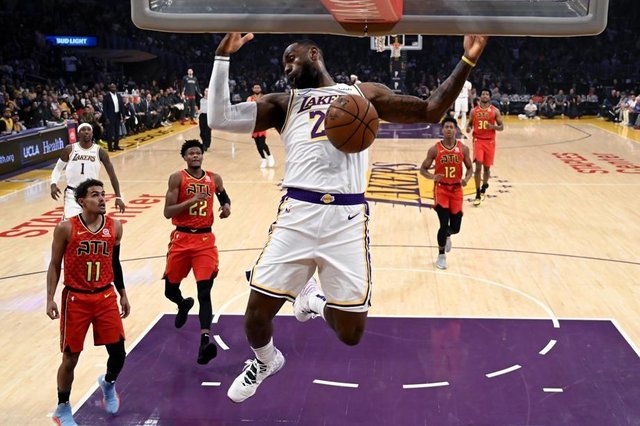 Source
In front of newcomer Kobe Bryant, LeBron James showed enough enthusiasm to lead the Los Angeles Lakers to a 25-point lead over the Atlanta Hawks, 122-101, yesterday by the National Basketball Association (NBA).
Of James's 33 points, 12 of them scored in the first nine minutes of the game, trailing by a 34-9 rally.
The inside of the Staples Center was buzzing after Jabari Parker of the Hawks was hit by JaVale McGee. James got the ball that quickly passed to Danny Green and passed a pass to James who was fearlessly thrown.
It was just one of the few decorations in the encounter that Lakers fans enjoyed.
In addition to his score, he also threw 12 assists as his 11th double-double this season.
On Saturday, the Hawks also trailed by the Clippers, 150-101, though Kawhi Leonard did not play.
Other Lakers in double figures were Kyle Kuzma with 17 points, Rajon Rondo 15 points, Caldwel Pope 13 points and Green and Alex Caruso also 11 points.
It was the Lakers' 11th win in 13 games.
In the other game, the Philadelphia 76ers made sure that their win would not go any further and this time they dominated the Cleveland Cavaliers, 114-95.
Remember, the Sixers nearly lost their first game of the season when they lost just one point. Tobias Harris scored 27 points and Joel Embiid contributed 14 points. Ben Simmons collected 10 points and 11 assists for the Sixers.
The Kings, 100-99, beat Boston, Orlando beat the Wizards, 125-121, and held the Nuggets to Memphis, 131-114. The Golden State Warriors crushed their seventh consecutive loss, 100-108, against the New Orleans Pelicans.