Giannis, the Bucks won again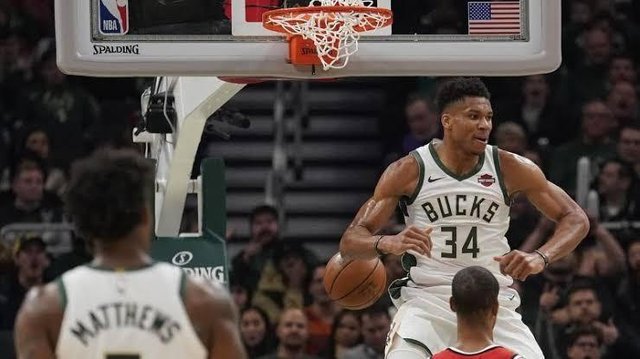 Source
Current MVP Giannis Antetokounmpo registered his second triple-double of the season to lead the host Milwaukee Bucks to victory over the Portland Trailblazers, 137-129, yesterday by the National Basketball Association (NBA).
Antetokuonmpo threw 24 points, 19 rebounds and a career-high 15 assists to help the Bucks generate their sixth straight victory that increased their record to 12-3, the highest in the Eastern Conference.
Antetokuonmpo explained that his offense was not too hot, which led to his withdrawal from the department by picking up rebounds and assaulting his teammates.
"I don't get going offensively," Antetokounmpo said. "Shots were not falling and they were showing a lot of crowds. I tried to find my teammates and they were in the right spots. They were able to knock down shots and to roll hard. I just did half of the work and my teammates did the rest. "
Antetokounmpo's released game has gained a lot of praise from his teammates as well as his opponents.
"Giannis is Giannis," said TrailBlazers veteran Cameo Anthony.
"Not a tough check. I thought tonight we actually did a pretty good job. Even though he had a triple-double, when you look at that, it's like 'Oh, he had a hell of a game.' But I thought, for the most part, we were back on him. We loaded up on him. He got some and-1s, he got going a little bit. ... He found some guys, they made some 3s, kind of opened the game up. "
In addition to Antetokuonmpo, the Bucks have five other players who have posted double-digit points led by Eric Bledsoe, who has 30 points.
The Trailblazers, who fell to 5-11, led by CJ McCollum with 37 points, and Skal Labissiere added 22 points while Anthony added 18 points.
Pelicans 124, Suns 121
In Phoenix, Brandon Ingram scored in the 4th quarter 15 of his 28 points to lead the New Orleans Pelicans to victory over the hosts Suns.
Also good for the Pelicans are JJ Redick and Jrue Holiday. Reddick scored 26 points while Holiday scored 23 points. The Suns are led by Kelly Oubre Jr. by 25 points while Devin Booker contributed 19 points.