Duno wins TKO; grandson of Flash Elorde knockout, defeat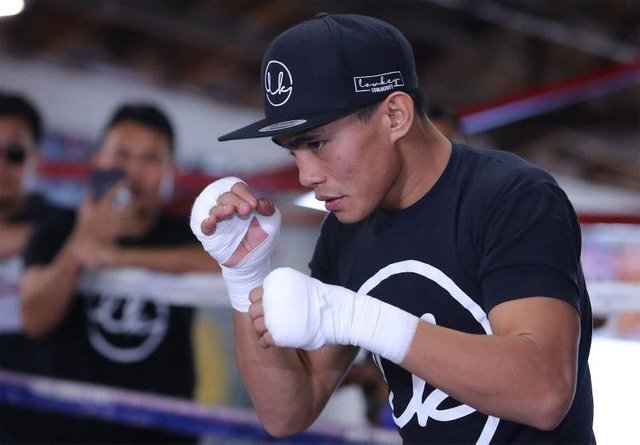 Source
Cotabato-native fighter Romero "Ruthless Mangtas" World Boxing Organization (WBO) North American Boxing Organization (NABO) Lightweight champion after a 7-round knockout victory over "American" Striker "Ivan Delgado at Dignity Health Sports Park in Carson California , USA Saturday, September 15, 2019.
Former world boxing champion Rodel Mayol, Duno's chief trainer, revealed to that their game plan is not to rush as the opponent is heavier and is expected to be weak in the long run.
"I can say that Romero (Duno) is really strong, although he still lacks but every fight he can learn. I am happy with his performance but I am not satisfied with the many combinations of his pieces when taking the distance, "Mayol said.
The pride of the 2nd class Municipality of Tulunan, Cotabato province, Duno as a result of the victory increased by a vote of (21-1, 16KO) as Delgado's record dropped to (13-3-2, 6KO).
"Duno vs Delgado is a good match for what it's worth, Duno's strength has been eaten by Delgado for his size. For me, yes, Romero is ready for Ryan" The Flash "Garcia (18-0, 15KO)," butyagni ex-WBO Bantamweight King Marlon "Nightmare" Tapales.
Duno-Delgado undercard in the main event of Mexican Jaime Munguia vs Ghana, African Patrick Allotey was traded to Golden Boy Promotions.
Elorde Defeated
On the other side of the MGM Grand Garden Arena in Las Vegas, Nevada, the grandson of former boxing legend Gabriel Elorde lost his grandson to boxing legend Gabriel Elorde.
World title challenger Juan Miguel "The Boss" Elorde, the son of Promoter Johnny Elorde (28-2, 15KO), finished in the third round with a knockdown but in the 4th round TKO after referee Russell Mora stopped by without stopping. Elorde was beaten by Mexican WBO 122-lb King Emanuel "Vaquero" Navarrete.