Casimero and Taduran visits Pacquiao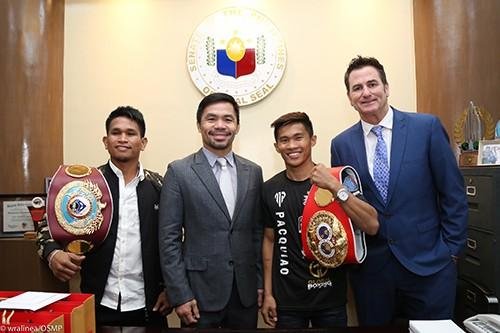 Source
Senator Manny Pacquiao welcomed new International Boxing Federation (IBF) minimumweight champion Pedro Taduran and interim World Boxing Organization (WBO) bantamweight titlist John Riel Casimero during a visit to two boxers in the Philippine National Combat office in the senate.
Along with Taduran and Casimero in their courtesy call on Pacquiao was MP Promotions president Sean Gibbons.
Taduran dropped Samuel Salva in the 4th round to secure the vacant IBF 105-lb throne while Casimero posted a 10th round knockout victory over Mexican Cesar Ramirez to pocket the interim WBO 118-lb championship.
Pacquiao, who is the only 8-division world champion in the world, urged athletes in the Philippines to be even more insincere in giving the country a better tomorrow.
Pacquiao says Taduran and Casimero are good examples of this.