FULL-TIME: Norwich 1-3 Man Utd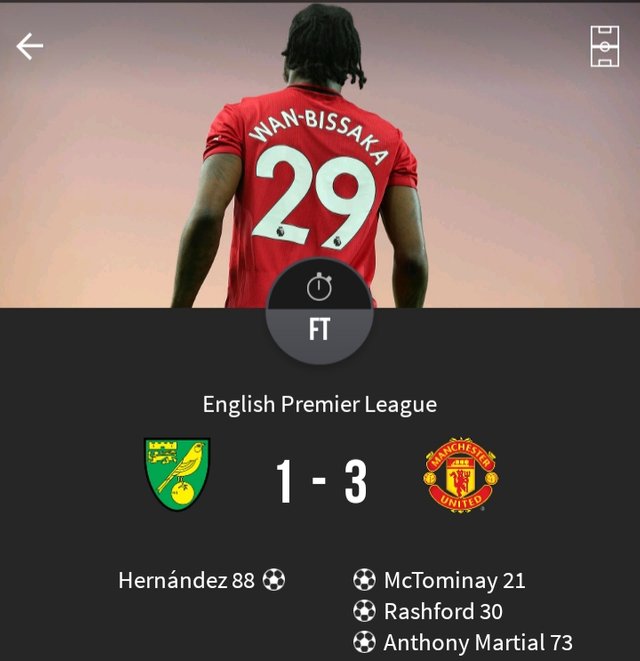 Source
Manchester united pick up their first Premier League away win of the season after an entertaining encounter at Carrow Road. I'm honestly happy United are up 2-0, but come on that was just sloppy on those penalties we could have made it 4-0, that's definitely something we need to improve on!
The fact we've had 5 years of low scoring too makes this all the more surprising as well. This is Manchester united... It's even wrong to say we are now 7th... We should be challenging with the Juventus, Madrid, Bayern and Barcelonas of this world.
The grit and sheer determination of Scott Mctominay even when we were 3-0 up is lovely to see. If our other players had the same grit, we will be a decent enough side.
McSauce my man of the match. Almost a perfect performance today by the team and up to 7th! Great to see Martial back in the team, and (other than the loss of possession at the end) McSauce and Fred both played excellent today in the centre of the park!
I am upset we didn't get more goals today? Norwich were really there for the taking but we dropped off in the 2nd half just have we've done in our last 2 games. Good result though. However, we are back to winning, this is yet another away wins for Manchester United since March. We have broken Curse broken?
Nice record, but the team as a whole is becoming a failure, how can you miss two penalty's in a match, just within few minutes?? Who does that?
I pray we keep the momentum going gradually and no silly slip because it won't help if we do.
photo credit: screenshot from Manchester United official app