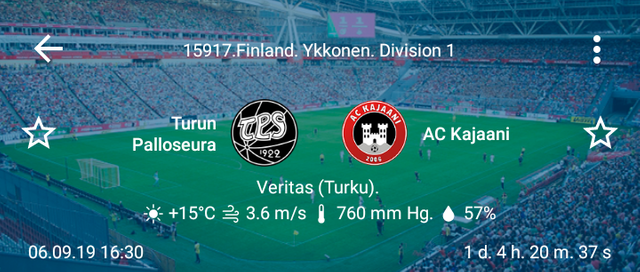 This is the 22nd round of finland Ykonnen Division between two teams who are in a safe position on the log. Although, the host, TPS is considered the favorite to win this round due to an advantage of playing in front of their home fans. However, this might not be an all easy game for TPS because their opponent AC Kajaani are also not just a push over team.
Therefore, with just 6 rounds of fixtures left for the season to end, both teams would surely be entering into this match with full determination of claiming a positive results.
The host, TPS are having an impressive performance at this year's tournament. Specifically, after 21 rounds, the Veritas team are currently ranked 2nd on the league rankings, with 41 points, after having managed to record a total of 14 victories, 4 defeats, and 3 draws, since the start of the season. However, coming to this game, TPS will be having the upper hand of playing their opponent at home, which will make it easier for them to get the maximum 3 points, and probably cement a promotion ticket to the higher league duvision, considering how impressive they have been in their previous home games.
On the other hand, the guest, AC Kajaani are currently in the top half of the rankings. Specifically, from the beginning of the season until now, the guests have won 5 matches, drawn 6 and lost 10 matches. AC Kajaani is ranked 7th in the standings with 21 points, and 9 points adrift the relegation threatened teams. However, coming to this game, AC Kajaani have not been pretty much impressive when playing away from home. They are yet to claim a victory in their last 3 away games, with 2 defeats, and a draw, in which they have conceded a total of 9 goals in the process.
With the above stats, the host, TPS are holding all favorable conditions to win the upcoming match, From being at home, current performance, rankings and head-to-head performance, all these clearly points to the host winning this round easily.
Pick