Ogenyi Onazi came to the rescue of Sanni Emmanuel, paid ₦1.5 million for his surgery
For Sanni Emmanuel; indeed miracles do happen at times.
Recall that I first wrote about Sanni Emmanuel's ordeal in this post some 7 days ago. In that post, Sanni Emmanuel, who was the 2009 U-17 World Cup Golden Ball Winner was asking for public help to enable him undergo a surgery as he was suffering from achilles tendonitis. This foot issue has forced him to retire prematurely from football. So he was soliciting for public help to take care of his surgical bill.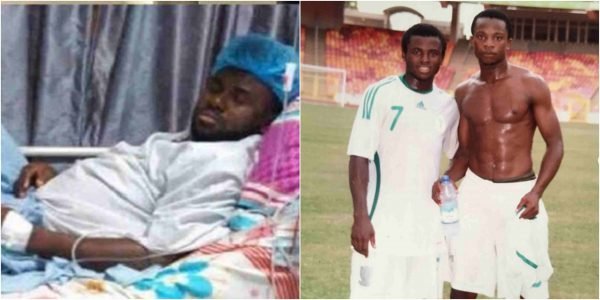 source
As God may have it, it seems that his prayers have been answered if what he wrote in Instagram is anything to go by. According to him, a fellow teammate during the 2009 FIFA U-17 World Cup has come forward to foot his surgical bills. His helper is no other person but the Trabzonspor midfielder and Nigeria International, Ogenyi Onazi. Mr Onazi, according to the announcement, paid the sum of ₦1.4 meant to take care of Mr Emmanuel's achilles surgery. He didn't stop there; he went on to pay extra ₦50,000 to enable him to board airplane from his base to Lagos where the surgery would take place.
Announcing it on his Instagram, Mr Emmanuel writes...
"I got a call from the doctor that [Ogenyi] Onazi has paid 1.4m for my surgery and also transferred 50k for my ticket to Lagos," an elated Emmanuel shared on Instagram.
"Thank you very much, brother. May God continue to bless you. The surgery is scheduled for 2nd of December 2019."
What Mr Onazi did for his once colleague is very rare in this part of the world, and so it's very commendable gesture. He wasn't the only person tagged in that appeal post. There were a lot of f stars who were tagged alongside him but he's the only person who felts the pains and frustrations of his once teammate. May God bless him abundantly. Amen.
To Mr Emmanuel, I say..."yoi will go through the surgery and come out unscathed. Amen.
Wishing you quick recovery.
God bless you