Nigerian borne boxing champion will soon present his belts to President Muhammadu Buhari. Right or wrong
So there is this news by a presidential aide that an arrangement will be made soon so that the world boxing heavyweight champion Anthony Joshua will have the opportunity of presenting his belts to President Buhari. This fact was disclosed by Laolu Akande while he was briefing State House Correspondence in Abuja as a representative of Minister of Sports, Sunday Dare.
Laolu Akande, (who made the briefing after Professor Yemi Osibanjo chaired Federal Executive Council (FEC) meeting in Abuja), is the Senior Special Assistant (SSA) to President on Media and Publicity, Office of Vice President. He, however, said date has not been fixed on which day the belts presentation by Anthony Joshua will take place.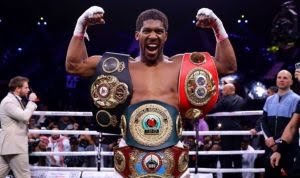 source
That's what there is about this news but that's however not the essence of this article.
The purpose of this article is to enable you to reason subjectively on your own and then come up with an intelligent reason as to whether it's good or not for Anthony Joshua to present his belts to President President.
Personally, in view of the fact that Anthony Joshua is more of British than Nigeria, I think its not in order for Anthony Joshua to present his trophy to General Buhari. He should take it to British Prime Minister instead of Buhari. That's where his primary citizenship is.
But I know he won't because those guys over there has little time for fanfare and jamboree. That's against what's obtained in this side of the world. President can afford to go on holidays for several months without having to bother about anything.
Let me hear your opinion in the below comment.
All the best!