Napoli boss relieved of his job despite 4 - 0 UCL win
I just read in the news that Napoli strongman, Carlo Ancelotti, has been dismissed from his job as the chief coach of the club. It was kinda devastating to people like myself because, in my honest opinion, Ancelotti's performance as the head coach of Napoli hasn't been that woeful.
My position is based on stats. Ancelotti lead the team to reach Champions League knockout stage. That aside, the team also remained unbeaten in their six group stage games, recording 3 wins and 3 draws.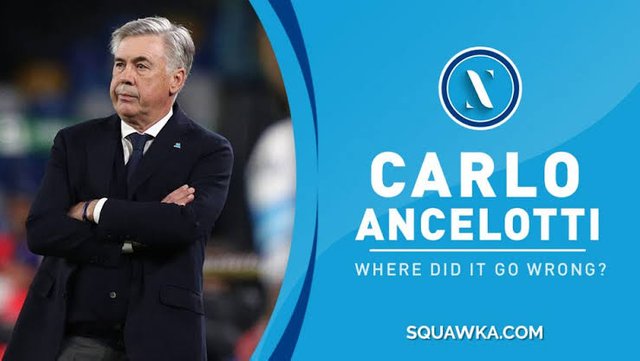 source
And even though there is a slight setback in their Serie A experience where they have a 9-game winless run before they eventually win 4 - 0 last Tuesday, but I guess that isn't a good enough reason to sack a coach. This is because, within the same period, he didn't lose games but rather recorded draws!
I really wonder the basis the club used in assessing this man.🤔🤔. I just hope this won't turn out to be a huge mistake by the club.
To Carlo Ancelotti, I urge him not to bicker about this. He's a great manager; this fact people know about it. Good managers don't waste time in getting good and better appointment elsewhere. That's the fact.
Just look at Jose Mourinho... I hope you know where he's today. So this temporary setback isn't the end of the world. This is all I have to say to him...
All the best!