My aspiration, for now, is to beat Ruiz because, once that happens, everyone will take a bow before me — Anthony Joshua
In life, it's great, and in fact, good to be optimistic. But sometimes people make the mistake of wearing the garment of proud in their optimism. And, most times, that marks the beginning of their failure.
Immodest boasting is bad; I don't know about you but, personally, that's how I see it. And that's what I see in the former Heavyweight champion, Anthony Joshua, when he made the erratic statement concerning his expectations from fans after his encounter with Andy Ruiz which is slated to take place in Riyadh, Saudi Arabia this December.
Recall that fight between the two supermen first took place in New York's Madison Square Garden in June. And against all expectations relatively unknown Ruiz shocked the world when he beat Joshua in 7 rounds. Anthony Joshua has since been saying all kinds of things as the reason for his shameful outing and, today, believes he's gonna regain his 3 belts in this December meeting. And must be adored this time around!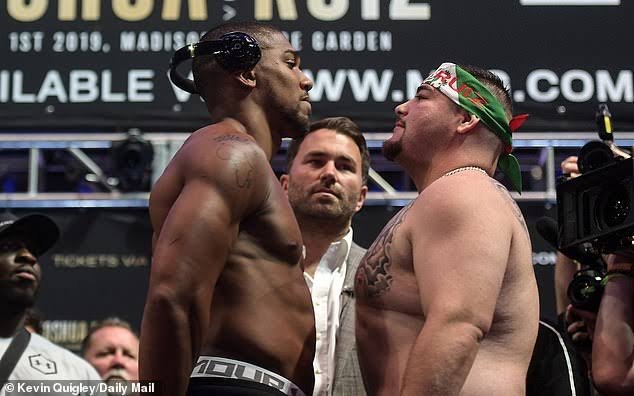 source
Reacting to Sky Sports, he said:
'I'm fighting the best man in the world now. I'm going to whup him, and show how great I am.'
And then continued:
"They think he's so great, so when I beat him I want everybody to bow to my feet and tell me how great I am. I couldn't beat Ruiz Jr before and get the credit I deserved. You saw me in the ring [before the fight] – I wasn't fighting King Kong, was I? I didn't have that mindset. Apparently I'm fighting the quickest hands and the best fighter in the division. So once I beat him I want everybody to bow to me." source
To me, that's undiluted bragging and it's bad. You don't brag before a fight because you really never know how it's gonna end. All I wound have done if I were in his shoes is to remain silence in optimism until I fight him and win him. After then, I can run my mouth anyhow.
It's reported that the fight which is tagged "Clash of the dunes" is sponsored by Saudi Arabian government with a total budget of about $40m.
That's a huge amount!
I wish them success!