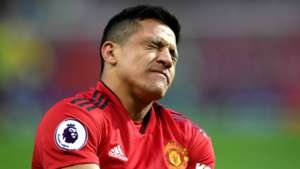 credit
Manchester United legend Gary Neville says no-one had foreseen the failure of Alexis Sanchez at Old Trafford, given that the Red Devils invested heavily in the Chile international forward.
Honestly big things were expected of Sanchez, going by his big pay packet, but the 30-year-old has proved to be a serious flop. And to think that the Red Devils believed they had pulled off an incredible deal by signing on the forward in January 2018.
He has just five goals recorded in 45 games and Neville is baffled as to why things have gone awry for Sanchez at United whose signing seemed to have made plenty of sense when Jose Mourinho moved to get a deal tied up.
The former Red Devils defender told Sky Sports: "We've watched Alexis Sanchez before during his years at Arsenal, he's tenacious, a goalscorer, giving his all every single minute of every game.
No-one could have foreseen the disaster that was about to happen with Alexis Sanchez.
I don't know what happened to him.
That wasn't the Alexis Sanchez that played at Arsenal