One of my outside predictions for the Montreal Rogers 1000 ATP title - Stan Wawrinka looked very impressive yesterday as he swept past Dimitrov in straight sets. What was promising is his clean and clinical serving and his backhand. Particularly his backhand look very explosive and dealt a lot of damage to the Bulgarian who gave the Swiss a run for his money at times. With Stan, whether he takes his backhand early or late and deep he has great feel with it and can usually land it back at his opponent with interest as well as hit clean winners that even Djokovic cannot handle. Even from a defensive position this allows Wawrinka to recover and set up for a potential on the front foot shot and this happened on many occasions with Dimitrov yesterday. His serve and backhand were the two weapons that made the difference.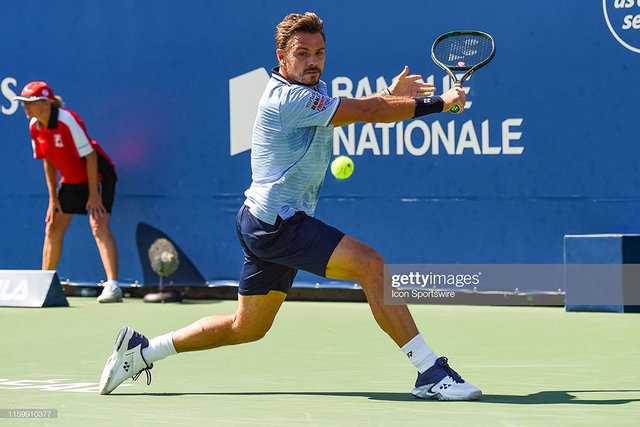 Source - Getty Images - Stan Wawrinka - Montreal ATP 1000 2019
In my previous post on Montreal I picked three outsiders to go with for winning the title. These were Nick Kyrgios (17.00), Wawrinka (26.00) and Fognini (51.00). I'll be posting updates on those odds as we advance into the later stage of the tournament should these outsiders last but I'll be looking on their individual matches to score predictions correctly too.
For example Kyrgios who has just won Washington is for some reason the slight underdog vs Edmund today. At 2.00 Kyrgios is a steal. I am not sure why the bookmakers have Edmund as the favourite at 1.72. Being British I watch him play a lot and I haven't been that impressed with the British number one this year. He has lost to some very average players and in Washington whilst Kyrgios went on to win in style, Edmund was defeated having run out of steam in a three set affair. So I'd recommend anyone reading to go for Kyrgios at evens, that's a great bet!
After his comfortable win yesterday Wawrinka has already had his odds to win Montreal outright cut from 26.00 to 19.00 so that first prediction is already looking like a tidy one.
Fognini and Wawrinka's next matches don't have attractive odds worth going for. But there's one more Brit playing today I do feel is worth a punt.
Dan Evans will be facing Australian De Minaur and I do feel the Brit has a chance here - I go with Evans a fair bit because I feel he catches a lot of players out outside the top 10. He's been playing consistent tennis all year and with his variety including net play I do feel he can catch the Aussie out too. At 2.37 he is also worth a punt. De Minaur has had a mixed year and I am not a great fan of how he plays tennis. Not only is he very defensive but the way he plays means there's very little in the way of artillery. It's almost like he tries to bore people into submission and this doesn't really work so well.