Five Trophies In One Year!
Algeria and Manchester City's Mahrez couldn't have asked for more last night as he lifted the African Cup of Nations with his country to make it a total of five trophies in a year.
The Manchester City attacker would undoubtedly be in a party mood right now as he has enjoyed one of the best years of his life and career with both individual and team honours hovering around him.
It all started with a community shield with club team Manchester City at the start of the previous season and then the Carling Cup win with his club came towards the end of the season followed by the FA Cup win, then the English Premier League win before bouncing off for international duties and winning his first ever international title, the African Cup of Nations with his country Algeria.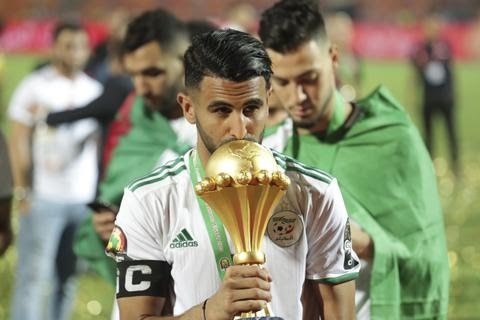 Source
In all these victories, Mahrez played the most vital part in his country's AFCON triumph basically because he is considered the key man who can conjure a magic that would get them flying at any time.
Mahrez was very essential in the lead up to Algeria's AFCON win as he was one of their major focal point in attack.
Against tough opposition in Nigeria, the attacker showed experience in beating his marker to cause an own goal from the Super Eagles before the end of half time and deliciously placed a free kick beyond the wall and past the goal keeper in second half injury time to progress his team to the finals.
It is without doubt that Mahrez has enjoyed a wonderful season and couldn't ask for more but he would now have to take his great form back to Manchester City where there is competition for his position and continues to improve his game.
THANKS FOR READING