Good morning. The shocking news came from the Yamaha MotoGP Team. Reporting driver Jonas Folger is reportedly no longer contracted to become a Test Driver. In fact, according to Folges, between his party and Yamaha, there was already an agreement to continue cooperation
Folger from Germany became a test driver for Yamaha in the 2019 MotoGP season after Folger left Tech3 at the end of 2017 due to illness.
At this time, Folger's fate seemed to be in vain and full of uncertainty. because the 2020 season most of the rider's seats have been filled. The 26-year-old rider has turned down various offers from Moto2 and World Superbike to stay on Yamaha. In this season Folger made five starts as a reserve rider for Petronas Sprinta Racing in Moto2.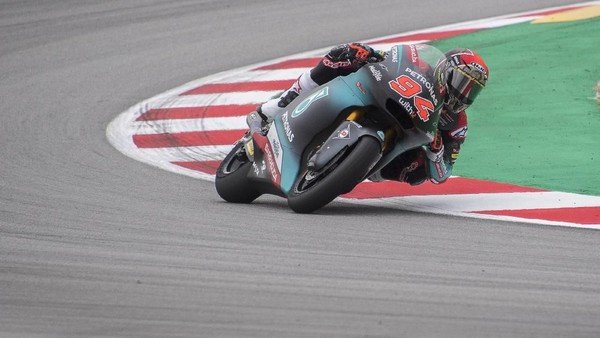 Source
INA
Selamat pagi.Kabar meengejutkan datang dari Tim MotoGP Yamaha. Pembalap penguju mereka Jonas Folger kabarnya tidak lagi dikontrak untuk menjadi Pembalap Penguji. Padahal menurut Folges antara pihaknya dan Yamaha sudah ada kata ksepakat untuk melanjutkan kerjasama
Folger yang berasal dari Jerman menjadi pembalap penguji untuj Yamaha pada musim MotoGP 2019 setelah Folger meninggalkan Tech3 di penghujung 2017 karena terserang penyakit.
Saat ini nasib Folger seperti terkatung katung dan penuh ketidakpastian. karena musim 2020 sebagian besar kursi pebalap telah terisi. Rider berusia 26 tahun itu telah menolak berbagai tawaran dari Moto2 dan World Superbike demi bertahan di Yamaha. Di musim ini Folger membuat lima start sebagai pebalap cadangan untuk Petronas Sprinta Racing di Moto2.