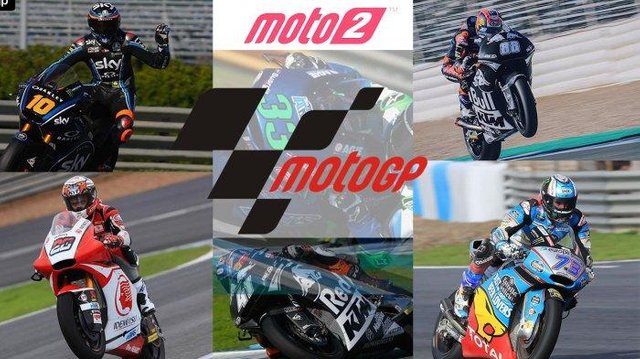 Goodnight all Steemians friends. Next week there will be the Moto Mar 2 GP San Marino Italian Race. In this event, there is one Indonesian driver who is active, Dimas Ekky Pratama. But in San Mirano Dimas Must Absent Race. The injury suffered by Dimas Ekky Pratama was a blessing for other Indonesian racer Andi Gilang.
Gilang will compete at the international Moto2 World Championship at the 2019 San Marino GP. This is Andi Gilang's debut race at the event. Astra Honda Racing Team (AHRT) is the team that will be defended by him in the 2019 Misano Moto2 race next week
Andi Gilang is not the only Indonesian racer who has ever raced in Moto2 before. There are Dimas Ekky Pratama and Gerry Salim, who are also covered by AHRT. Previously Andi Gilang took part in other international events, namely Supersport 600cc (SS600), Asia Road Racing Championship (ARRC), and FIM CEV Moto2. In 2018, he competed in the race for the title until the last round, by noting the two wins that were won in Indonesia.
Good on the track, Andi, no need to win. It could be Finis we would be propped up ....

IND
Selamat Malam sahabat Steemians semua. Minggu depan akan ada Balapan Moto 2 GP San Marino Italia. Di ajang ini ada satu Pembalap Indonesai yang berkiprah yaitu Dimas Ekky Pratama . Tetapi di San Mirano Dimas Harus Absen Balapan. Cidera yang dialami oleh Dimas Ekky Pratama menjadi berkah untuk pembalap Indonesia lainnya Andi Gilang.
Gilang akan berlaga pada ajang balap internasional Moto2 World Championship di GP San Marino 2019. Ini merupakan balapan debut bagi Andi Gilang di ajang tersebut. Astra Honda Racing Team (AHRT) menjadi Tim yang akan dibela olehnya pada balapan Moto2 Misano 2019 pekan depan
Andi Gilang bukan satu-satunya pembalap Indonesia yang pernah Balapan di Moto2 sebelumnya sudah ada Dimas Ekky Pratama dan Gerry Salim, yang dinaungi oleh AHRT juga. Sebelumnya Andi Gilang berkiprah di ajang internasional lainnya, yaitu Supersport 600cc (SS600), Asia Road Racing Championship (ARRC), dan FIM CEV Moto2. Pada 2018, dia bersaing dalam perebutan gelar juara hingga putaran terakhir, dengan mencatat dua kemenangan yang didapat di Indonesia.
Bagus-Bagus di Lintasan ya Andi, Gak usah Menang. Bisa sampai Finis saja kami akan sangga….