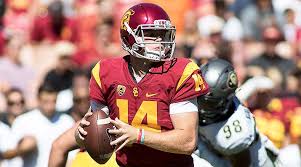 ---
SteemSports Presenter: Scott Frank,
@scottybuckets
---
College Football is back in only 17 days! Yesterday we broke down the Preseason Top 25 Rankings. Today we will tell you about the Top 10 Quarterbacks in the country!
---
1. Sam Darnold USC - "With the first pick in the 2018 NFL Draft, the _____ select, Sam Darnold." He is the best quarterback in the country and led the Trojans to a dynamite year. He averaged over 300 yards passing per game and helped the Trojans average over 38 points a game.
---
2. Lamar Jackson Louisville - The reigning Heisman Trophy winner is back at Louisville for his Junior Year and is ready for another huge year passing the ball and also running the ball too. He will surpass his 21 touchdown total of 2016. Louisville will put up ridiculous offensive numbers this year and Jackson will again be the main reason why.
---
3. JT Barrett Ohio State - He was a Heisman Trophy contender two years ago. But after some injuries, he has missed a lot of games and had to split time with other quarterbacks. But this year should be his best yet. The Ohio State offensive line is one of the best in the country. Barrett is poised lead the Buckeyes to the Final 4.
---
4. Baker Mayfield Oklahoma - The Sooners have their quarterback back for another huge season. He had the best performance of all time last year by completing over 70% of his passes. He will throw for a ton of yard and is also nimble on his feet. Mayfield is also going to be a first round draft pick next year.
---
5. Jake Browning Washington - He is all recovered from shoulder surgery and ready to play at full strength. Washington has a pretty easy schedule and they will need to blow out their competition to look good for the BCS Committee. If you could play daily fantasy with college teams, I would pick him at #1 as the Huskies will score over 50 points a game multiple times.
---
6. Luke Faulk Washington State - The pass happy offense of Mike Leach is back this year with stud quarterback Luke Faulk. He has thrown for over 10,000 yards in his career and has the potential to throw for 5,000 yards this season. His 89 Touchdowns to only 26 interceptions is a phenomenal ratio.
---
7. Mason Rudolph Oklahoma State - He enters his senior year as one of the best quarterbacks that the program has ever seen. Last year he completed 64% of his passes and threw 28 touchdowns with only 4 interceptions. Oklahoma State loves to throw the ball and Rudolph is the best deep passer in the country.
---
8. Chase Rosen UCLA - He stormed into the seen as a freshman 2 years ago. But last year he had a new offensive coordinator and was banged up. Rosen will bounce back this year and be the third best quarterback in the PAC 12.
---
9. Trace McSorely Penn State - He threw for a school record 3,600 yards last year. He is back with a great offensive line and the best running back in the country to take pressure off of him. He is also great as a running threat and had 365 rushing yards last year. If he can beat his 29 touchdowns from last year, Penn State will be at the top of the Big Ten with Ohio State.
---
10. Josh Allen Wyoming - Last year the Wyoming Cowboys had their best season in a long time. He threw for 28 touchdowns and ran for 7 more. The NFL scouts are drooling over his 6'5 build and talent. Wyoming is a great team to follow this year and their offensive will be explosive.
---
Who do you have at the top of your list? Do you think Sam Darnold will lead USC to the promise land? Who is missing from this list that you would put in the Top 10? Thank you for following
@steemsports
and you can find me
@scottybuckets
. I will break down the Top 10 College Running Backs tomorrow! Cheers!