---
SteemSports Presenter:
@brandonk
---
SteemSports Editor:
@scottybuckets
---
Terrence Crawford Becomes the First Undisputed Champion in Over 13 Years!
---
At times the Deus Ex-Machina of sport and life comes full circle! Terrence Crawford needed no miracle to accomplish his task of uniting the belts, but the way he stopped the former two organization champion Indongo in under 4 rounds shows how far ahead of the game he is!
---
Crawford utilizes a roll reminiscent of Jack Dempsey, a full bob and weave from the hip to floor in which his opponent just can track the speed nor the angles. Indongo was hitting air all night and wasting much needed energy throwing wide and sloppy bombs. In combat sports one must fight fire with fire, only a superior fighter can take out a technician...not a simple brawler.
---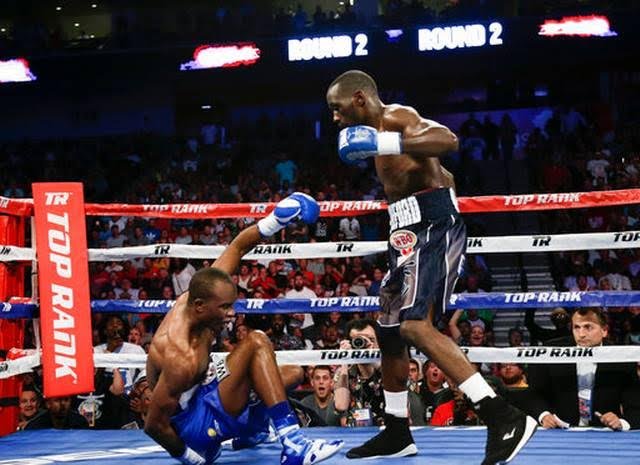 ---
This was a bout that opened the fans eyes to the power and speed Crawford carries at 140 pounds. His dismantling of the gold medalist Felix Diaz and now the African champion Indongo show there are no more men in this division that can even give him a fight. The inevitable move to welterweight is in "Bud's" immediate future, but to be frank, he may stay at 140 to enjoy the splendor of being an undisputed, 4 organization champion.
---
147 pounds awaits this incredible talent! The likes of current champion Errol Spence and rising star Keith Thurman would create real tests for the lightweight champion, and we would see if size and power would come into play with those battles. We have many ideas for Terrence Crawford's future, but it is up to him to create a brilliant legacy.
---