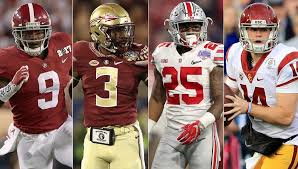 ---
SteemSports Presenter: Scott Frank,
@scottybuckets
---
We are only 18 days away from the start of the 2017 College Football Season! Last week we broke down the NFL by position and this week it's time to dive into the NCAA Teams and Players. Let's get started with the
@scottybuckets
Top 25 teams!
---
1. Ohio State - JT Barrett is back at quarterback and is one of the Heisman Trophy favorites. Along with Barrett, there are 15 returning starters. They have the best Defensive Line in the country and a top five Offensive Line to give Barrett plenty of time in the pocket. Ohio State's schedule looks favorable and they only play one top 20 road game, Michigan. They will go 12-0 and be in the BCS Final 4.
---
2. USC - The best quarterback in the country and potential #1 NFL draft pick, Sam Darnold, is ready to lead the Trojans to the promise land. They closed the 2016 season with 9 straight wins and a beatdown of Washington, followed by a win over Penn State in the Rose Bowl. They have zero road games against anyone in the top 15 and should also run the regular season table. 12-0 is not only realistic, but probable.
---
3. Alabama - Another year and another top 5 Preseason appearance for the Alabama Crimson Tide. This year they finally have a veteran quarterback in Jalen Hurts. He has the potential to take a usually boring offense and give it some excitement. Bama often relies on handing the ball off and utilizing their fantastic offensive line, but Hurts will add the run/pass dimension. They have a tough schedule and play Auburn and Florida State on the road. They should be favored in every other game and I would never bet against Nick Saban.
---
4. Florida State - They are loaded on both sides of the ball this year. They have my #2 rated defense that will wreak havoc on every team they play. The Seminoles also welcome back quarterback Deondre Francois back to lead their offense. Their biggest challenge will be there schedule that includes road games at Alabama, Clemson and Florida.
---
5. Oklahoma - The Sooners have the best offensive line in the country and with quarterback Baker Mayfield back, I expect them to put up 40+ points per game. Their defense is top 20 and I expect them to win the Big 12 this year. Like Florida State, they face a tough road schedule that includes Ohio State, Oklahoma State and Kansas State.
---
6. Washington - Heisman runner up, Jake Browning, is back at quarterback for the Huskies. Combine that with one of the easiest schedules and Washington has a legitimate shot at the BCS Final 4. Other than the game at Stanford, they won't face a real test until the PAC 12 title game. Look for lots of big spreads and blowouts for the Huskies. But can they get it done late in the season? That is the question.
---
7. Penn State - This is the Nittany Lions best team since the scandal and they have the potential for a historic year in Happy Valley. Arguably the best running back in college is Saquon Barkley. Add in quarterback Trace McSorley and the points should be rolling in for Penn State. They also have 15 returning starters. Their game at Ohio State will likely decide the fate of both teams.
---
8. Louisville - Lamar Jackson returns from his Heisman Trophy winning season at quarterback. Their offensive will be even more explosive than last year. Also, they have a very favorable schedule that includes Clemson at home. They should make the ACC title game and have a good chance at running the regular season table.
---
9. Auburn - Jarrett Stidham has the Tigers faithful excited about the upcoming season and return of a powerful offense. He is the best quarterback to play for them since Cam Newton. They have a top 10 offensive and defensive line. Their SEC schedule will be brutal, as always, but they have the talent to be at the top.
---
10. Miami - The U is back in the preseason top 10! The Hurricanes have one of the best defenses in the country and second year head coach, Mark Richt, has had 2 phenomenal recruiting years. They have 15 returning starters and are ready to be back on the big stage!
---
11. Clemson
---
12. Florida
---
13. Wisconsin
---
14. Oklahoma State
---
15. Stanford
---
16. LSU
---
17. Notre Dame
---
18. Michigan
---
19. USF
---
20. Texas
---
21. TCU
---
22. Oregon
---
23. BYU
---
24. Georgia
---
25. UCLA
---
Who is #1 on your board? What did I get right and what do you disagree with? I would love to hear your thoughts! Follow
@steemsports
and catch me
@scottybuckets
. Cheers!