Leon Edwards' victory at UFC 278 is great for the sport
I was pretty shocked, just like almost everyone else was when Leon Edwards landed that kick that knocked Usman out cold in the 5th round. I was in a bar watching it and almost everyone was commenting about how this main event was very boring and in fact, most people weren't even watching the screen anymore when the kick that decided it all happened.
Leon was a rather large underdog going into this fight, and by the time the 5th round came around he was certainly going to lose on points if he didn't do exactly what he did do.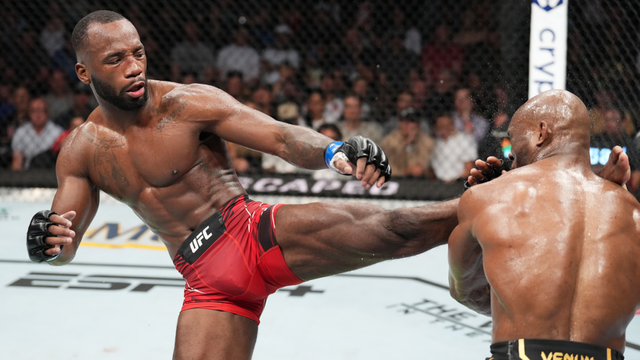 src
Up to this point aside from a few moments Usman was winning the fight by all accounts and had the pace continued the way that it had been going, Usman would have walked away with the strap firmly around his waist once again.
I will admit that I was rather indifferent about which one of these men ended up winning and for that reason this PPV was one that I was looking forward to quite a lot less than those in the past. The rest of the card didn't really do much for me either but hell, I didn't have anything else to do so I may as well watch it, right?

src
The judges' scorecards looked exactly like everyone thought that it would and even if Leon had won the 5th round it wouldn't have mattered in a decision. I think it was probably pretty difficult to judge round 2-4 since not a whole lot of anything actually happened. This is a problem that I usually end up having with championship bouts and I have said it many times before: The champions generally do not try to win the match, they simply do their best to not lose. This is a losing situation for the fans because every champion knows that all they have to do to win on points is land a few strikes and then stay away from their opponents for the rest of the match. This has lead to some really boring fights in the past, and I am sure it will lead to plenty more boring ones in the future.
Let's look at the welterweight division and why I think that this win by Usman is a good one for the fans and most of the fighters.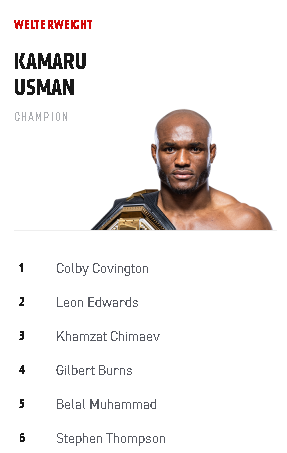 src
As is typical with UFC, they haven't yet updated their website and I'm at least hoping that this has something to do with the rankings taking a bit longer to determine rather than just sheer laziness on their part. We all know that Usman is no longer the champ.
With Usman out of the picture at the top, we have a lot of opportunities for the lower ranks to become more involved.
I felt as though the Leon Edwards fight was one of just spending time making money in Salt Lake City in preparation for the "real fight" that would be against Khamzat Chimaev later this year presuming that Chimaev beats Nate Diaz, next month and I think that most people are presuming that he will. UFC is relatively predictable as far as their matchups are concerned because there is always a hand-selected up and comer' who is obviously being placed in relatively easy fights in order to make justification for a title bout.
Usman has not lost in the UFC as far back as I can tell but he really rose to prominence around 2019 to now where he has seemed unstoppable.
I do not think that UFC will immediately offer him a rematch and the fans would not be pleased if they did offer that because honestly, this fight was a snoozer right up until around 4 minutes into round 5. Edwards did OK in the first round but the next 3 were something I could have gladly just heard about later, rather than have watched.
With Usman out for a bit, this gives the fans something that I think a lot of people would like to see and that is a potential Colby Covington vs. Leon Edwards fight. You see, they couldn't really give Covington a 3rd attempt at Usman and these sorts of things rarely happen. A changing of the guard is necessary before most people will be given a 3rd try at glory. In my mind anyway, this also encourages people lower in the ranks to try to impress in any welterweight fights from here until the end of the year because by doing so, they can raise their value in the organization and get a chance at the gold that they may have already been offered a time or two but Usman defeated them and therefore, they do not get another chance.
I'd prefer if we limited it to the top 5 as far as rushing to get an opponent for Edwards is concerned and if the Chimaev fight vs Diaz wasn't already in the books that would be my guess for who Edwards would face first. Seeing as how that is very unlikely to happen since he is already headlining a very strange PPV in September, Covington is the likely next target.
While I haven't looked at what Colby is saying now, I am sure he is chomping at the bit to get another shot at the belt. Then, if he wins the belt, it opens a ton of opportunities for UFC including Chimaev, Usman, or hell, even Stephen Thompson or even worse, Jorge Masvidal.
If Usman had won on Saturday, there was only really one person that the UFC could have put him up against. With Edwards winning, we have a ton of different options and this, to me, is much better for the industry in general.
What do you think?