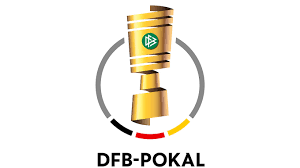 Heute 8 Spiele in der 2. Hauptrunde im DFB Pokal.
Today 8 games in the 2nd main round in the DFB Cup.

vs.

Wolfsburg spielt zu hause gegen Leipzig. Ein Spiel auf Augenhöhe mit dem Heimvorteil für Wolfsburg. Ich tippe 1:1 nach 90min. und 2:1 nach Verlängerung.
Wolfsburg plays at home against Leipzig. A game on par with the home advantage for Wolfsburg. I guess 1: 1 after 90min. and 2: 1 after extra time.
---

vs.

Düsseldorf spielt zu hause gegen AUE. Düsseldorf als Mannschaft aus der 1. Bundesliga klarer Favorit, aber AUE kann vielleicht eine Überraschung schaffen. Ich tippe 0:0 nach 120min und AUE gewinnt im Elfmeterschießen.
Düsseldorf plays at home against AUE. Düsseldorf as a team from the 1st Bundesliga clear favorite, but AUE may create a surprise. I bet 0-0 after 120min and AUE win on penalties.
---

vs.

Dortmund spielt zu hause gegen Gladbach. Ich erwarte ein knappes Spiel und tippe 1:1nach 90min und 1:2 Auswärtssieg nach 120min.
Dortmund play at home against Gladbach. I expect a close game and guess 1: 1 after 90min and 1: 2 away win after 120min.
---

vs.

St. Pauli spielt zu hause gegen Frankfurt. St. Pauli im Heimspiel nie zu unterschätzen, aber für mich eine klare Sache für Frankfurt. Ich tippe 1:3.
St. Pauli plays at home against Frankfurt. Never to underestimate St. Pauli in the home game, but for me a clear thing for Frankfurt. I guess 1: 3.
Funny games @all
Best regards & Glück auf
sportfrei