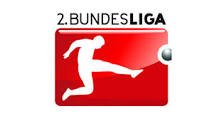 Heute beginnt der 10. Spieltag in der 2. Bundesliga. Beide Mannschaften aus Ostedeutschland sind am Start.
Today begins the 10th matchday in the 2nd Bundesliga. Both teams from East Germany are at the start.

vs.

AUE spielt zu hause gegen Nürnberg. AUE bisher in den Heimspielen sehr stark und Nürnberg mit guten Spielen, aber an manchen Spieltagen auch sehr schwach. Ich tippe einen knappen Heimsieg mit 2:1.
AUE plays at home against Nürnberg. AUE so far in the home games very strong and Nürnberg with good games, but on some matchdays also very weak. I guess a close home win with 2: 1.
---

vs.

Fürth spielt zu hause gegen Dresden. Dresden hat 2 Spiele in Folge verloren und muß mindestens einen Punkt holen. Ich sehe Fürth aber mit der besseren Mannschaft und als leichten Favorit. Auch hier ein 2:1 Heimsieg.
Fürth plays at home against Dresden. Dresden has lost 2 games in a row and must get at least one point. But I think Fürth with the better team and as an close favorite. Again, a 2-1 home win.
Funny games @all
Best regards & Glück auf
sportfrei