In a move that can only be described as "well that makes sense," the Arizona Cardinals traded with the New Orleans Saints for Adrian Peterson. The Saint will get a conditional 6th round pick in the 2018 draft.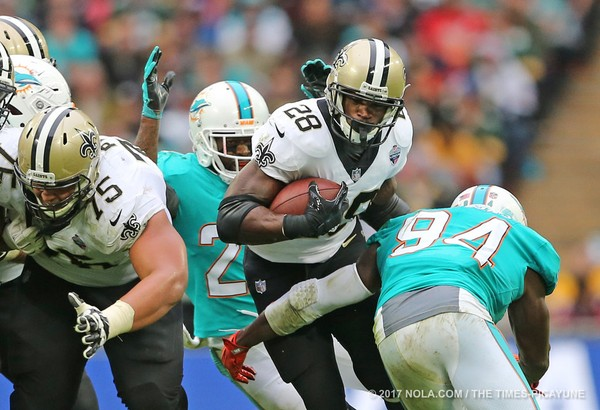 The Cardinals Running game
The Cardinals have one of the best RB's in the NFL in David Johnson, but Johnson got hurt and was put on IR, expected to miss the season. The Cardinals had Chris Johnson, but he's seen his better days and just isn't capable of carrying the rock as a full time running back.
Chris Johnson was OK in short spurts, but the more he carries the worse he does. And he had an abysmal 2.5 yards per carry average this year. The Cardinals went from one of the best rushing teams in the NFL to the worst. After another terrible out Johnson was cut and Arizona will see if AP has anything left in the tank.
Adrian Peterson with the Saints
Peterson was signed by the Saints in the offseason. The Saints were hoping to use him in a rotation, but with Mark Ingram as their feature back, most of their carries go to him. Then RB Alvin Kamara emerged. He's been explosive with a 5.5 ypc average. So he was getting all the passing down work and extra rushing attempts.
This left Adrian Peterson with only 27 carries in 4 games. Essentially he had no value to the Saints, so this trade is no surprise. Peterson seemed like an odd fit in New Orleans as they pass the ball so much to their RB's, which was never AP's strong suite. He's also more of a power runner, that does his best work in the pro set or I-formation. The Saints run a lot single back shotgun.
What Does this Mean for Fantasy Football?
I don't know if Peterson will be great, but I think there is a good chance he's adequate. And he's capable of carrying the ball 20 times a game. He's also a big enough back that he can be used in short yardage.
For fantasy players that stashed AP, he's a good pickup just because of the work and goalline duty. For most leagues, Peterson is likely available on the waiver wire. I don't think you break the bank for him, but he could make a good flex player if he gets the rock.